August 22, 2005

Editor's Note: Campus coverage our top priority
Welcome to your best source of campus news, sports and entertainment.
That's right, I said "best."
Across the University of Arizona, there are experts in the humanities, sciences, business and law. Our campus athletic teams regularly rise to the top on the soccer field, baseball and softball diamonds and, of course, the hardwood.
Here at the Wildcat, we're experts in providing to you all the relevant and fun information you need to know every day. That's our game, and we excel at it. [Read article]



Guest commentary: Sex without consent is a crime
The University of Arizona Police Department is committed to working with the campus community to ensure a safe environment for students, staff, faculty and visitors. We believe in proactive involvement and expending significant resources, providing educational presentations to students in many venues, and addressing a variety of topics.
None of these topics is more important than the crime of sexual assault. Although most students enjoy the opportunities to expand their social skills and enter healthy relationships while attending the university, there are significant numbers of students who unfortunately cause harm to others or are harmed by others. Too many students - an overwhelming majority of whom are female - are victims of sexual assault, sexual abuse or relationship violence. A disproportionate number of these crimes occur during the initial weeks of each fall semester, as students are away from home and experimenting with new behaviors associated with that freedom for the first time in their lives. [Read article]



Columnist bios
Alan Eder - Eder is a political science and Spanish senior. He would have graduated sooner, but he spent too much time playing racquetball at the Student Recreation Center in lieu of taking more classes. Five feet 5 inches tall and weighing 130 pounds with brown hair and brown eyes, Alan is every woman's fantasy. He spent the past summer growing the world's ugliest beard and gallivanting about Mexico. His future career plans involve attending law school and thereafter suing the world's largest drug company, thus securing a decent nest egg for his retirement. His columns will appear on Wednesdays. [Read article]




Fastfacts
- When Joseph Gayetty invented toilet paper in 1857, he had his name printed on each sheet.
- There are 293 ways to make change for a dollar.
- At 90 degrees below zero, exhaled breath freezes in midair and falls to the ground.
- Credit Fritz Lang for the familiar countdown, "three, two, one, liftoff." The phrase appeared in his 1929 film, "Die Frair im Mond" (The Woman in the Moon).
- Most people take an average of seven minutes to fall asleep. [Read article]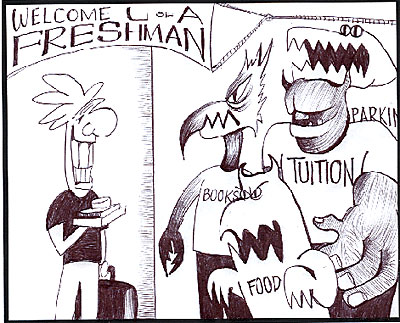 showAds('bigbutton')?>






showAds('mediumbutton')?>

showAds('wildlinks')?>