Wednesday, September 15, 2003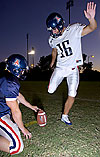 Football: Still kicking
Folk, Baugher work to show how alive UA kicking game really is
The NFL's New England Patriots have won two Super Bowls because of one.
Oregon State's football team self-destructed without one.
The kicking game continues to be one of the most influential gridiron weapons available, but for last season's Arizona football team it was nothing more than inefficient, if not a complete embarrassment. [Read article]




Soccer Roundup: History in the making for Wildcats
Six games into the 2004 season, the Arizona soccer team is already one win away from tying its win total from the entire 2003 season. The Wildcats are also just three wins away from tying the all-time high in wins for UA soccer, set by the 1997 team.
"I think it's a time issue - we had a good returning group that knew what it was going to take to be successful, and we had good freshmen. The combination of the two things has put us in a position each week to build on our success," UA head coach Dan Tobias said of his team's early success this season. [Read article]




Athlete of the week: Abernathy above the rest
Junior outside hitter Jennifer Abernathy is living the high life after being named both Most Valuable Player of last weekend's Four Points University Plaza Wildcat Classic and Pacific 10 Conference Player of the Week for Sept. 7-12. In the weekend tournament, she totaled 50 kills on 111 attempts with only 22 errors, in addition to 25 digs and 53.5 points. On the year, the Antioch, Calif., native is averaging 4.36 kills and 2.16 digs per game. Now Abernathy switches from delivering kills to dishing out what it is like to compete against her sister, first impressions and why beach volleyball is underrated. [Read article]




showAds('bigbutton')?>




showAds('mediumbutton')?>

showAds('wildlinks')?>