September 15, 2005


Artist comes home to curate
UA alumna Julia Latane claims that in the past her art has been arranged in exhibits in such a way that she does not even recognize it. So, as the first "curator as artist" in a new exhibition series at Tucson's Museum of Contemporary Art (MOCA), she intends to let her fellow artists' work speak for itself.
Latane, a Tucson native brought home 10 colleagues' work from her new residence of Los Angeles to demonstrate her idea of progressive energy in her exhibit called "Quickening." [Read article]




Tucson and campus calendar
Today
Duncan Sheik - City Limits. 6350 E. Tanque Verde Road. A few years ago, he had everybody Barely Breathing. But now it seems like they're barely listening. See if this guy can recapture his 1990s glory when he performs in concert. David Poe opens. 8 p.m. $15
Hannah Blue Heron - Antigone Books. 411 N. Fourth Ave. This lady makes all of our lives seem boring and pathetic by comparison. In addition to being a writer, musician and community builder, she's also tried on the shoes of a heterosexual flower child, a lesbian feminist and even a nun. But the real test will come today when she attempts to read her memoirs in front of the Fourth Avenue hippies. 7 p.m. Free [Read article]




Scatter shot
A collection of views, gripes and nonsense
Gripe of the Week
I'm getting pretty sick of Lance Armstrong. No one really cares if he was doping because no one cares about cycling. This is not a scandal that matches the steroid outbreak in baseball, no matter how much press it gets in France. Now Armstrong is engaged to Sheryl Crow, who did a duet with Kid Rock a couple years back. Guilty by association, Stretch. And finally, Armstrong says he may be coming out of his two-week-long retirement to train for another Tour de France. Stop it, Lance. If your sport is more interesting when a 5-year-old learns how to do it, you shouldn't be on "SportsCenter." [Read article]




Dengue Fever - catch it!
Dengue Fever is just like any other rock band. You know, they have a guitar player, drummer, farfisa organ, Cambodian pop star ...
Well, maybe "normal" is a bit of a misnomer. But that doesn't mean this California sextet is any less palatable or down to earth. Dengue Fever's beginnings are just like any other band in the scene.
Three guys playing music at each other's house. Guitar, drums and somebody's accordion. The psychedelic Cambodian rock music with an African flavor came later. [Read article]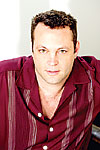 Vince Vaughan to swing through Tucson
Vince Vaughn. Nothing else really needs to be said. You know the name, you've seen the name and very likely you've laughed at the man behind the name. So, what's he doing in your Arizona Daily Wildcat? Well, it just so happens the Swinging, Wedding Crashing, Ball Dodging, Older Schooler is bringing his Wild West comedy tour through town on Monday in Centennial Hall.
The tour, officially dubbed Vince Vaughn's Wild West Comedy Show, kicked off this past Monday in Los Angeles and runs through Oct. 11 in Chicago. The event started simply enough when Vaughn began checking out comedians with a buddy in the Big Easy. [Read article]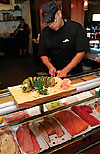 Mexican meets raw fish
If the owners of O' Malley's, Chipotle and Panda Express got together to make a sushi restaurant, it would probably taste similar to Wok n' Sushi. And just to make myself clear to all you freshmen out there; No, that's not a compliment.
But I guess if you're actually naive enough to get in your car and drive to far off distant lands (south of 22nd Street) to a Mexican sushi restaurant that serves none other than Mongolian Barbecue, you really should either keep your standards low, or give yourself a hardy slap in the face. [Read article]




Tragic love stories pepper '2046'
Wong Kar-Wai's "2046" is a thought-provoking meditation on love, loss and rebounding.
What it's not, however, is a sci-fi film, despite how it's been marketed. The year 2046 is only the setting for a story that main character Chow Wo Man (Tony Leung Chiu Wai) writes, which is shown on screen as an extension of what is going on in his life.
When the film opens in the mid-'60s, Chow is a ladies man and social butterfly who has just moved from Singapore to Hong Kong. A journalist for some kind of trashy publication, he rents an apartment (room 2046) in the city. He proceeds to write, party and love for the remainder of the film as we move forward and backward a few years through the '60s, with occasional poignant scenes from his futuristic story. [Read article]




The Decemberists make perfect lit-rock
It is no exaggeration to dub Portland's The Decemberists among the smartest of the indie music brain bands like Okkervil River and The Hold Steady. Likewise, it's not going out on a limb to attribute most of The Decemberists' musical and lyrical prowess to frontman/songwriter Colin Meloy, one of indie music's brightest and wordiest troubadours.
The band's latest release, The Decemberists Present Picaresque, was released in March to rave reviews (including - to date - this publication's only perfect score of the year). Over the course of 11 tracks, Meloy and his bandmates made aged tales of Victorian love, barrow boys and being swallowed by a whale palpable to the iPod and laptop generation. [Read article]




Fall tv preview
For the first time in recent memory, the fall TV schedule doesn't look half bad.
Sure, ABC's "According To Jim" is still on the air and the reality programming is almost entirely headache inducing, but it seems like the broadcast networks are at least trying again.
Cable is where most of my mind-numbing hours go, but I might move down to the lower numbers thanks to some great new programming. Here's a quick look at some of the shows that look most watchable this fall season. [Read article]



Students get lesson in playing with jazz greats
After only four weeks of classes, students in music professor Jeffrey Haskell's Jazz Ensemble are facing one of the biggest tests of their lives, and more than grades are at stake. The class, composed of the top student jazz musicians in the School of Music, will be participating in "Jazz at the AZHarmonic." The event, organized by Haskell, incorporates an impressive roster of jazz icons that will open the event and then play with the students. [Read article]



Pumpkin-Heads and Potato Babies: Meet the "Willful Creatures"
RATING: 9/10
Aimee Bender defends her position as one of America's most daring and gifted short fiction writers with the publication of "Willful Creatures," her latest collection of stories. The book is divided into three sections of five stories each, and the stories are each only a few pages long. To read them too quickly would be a mistake, as these are not stories to run through, but stories to savor. While a fast read-through will entertain, a slower or second read-through will allow the reader to appreciate the skillful artistry Bender uses to unfold her tales. [Read article]



Aimee Bender: From Boredom to Brilliance
Los Angeles-based writer Aimee Bender first grabbed the attention of the literary world in 1999 with her debut collection of short stories, "The Girl in the Flammable Skirt." She further developed her signature style of artfully crafted fiction with her 2001 novel "An Invisible Sign of My Own," and has gained quite a devoted following among critics, authors and readers alike.
She is currently a faculty member in the English and creative writing department at the University of Southern California, and has published extensively in well-respected magazines such as The Paris Review, Granta, GQ and Harper's Magazine. Her newest collection of stories, "Willful Creatures," debuted Aug. 16 to much critical acclaim, garnering starred reviews in both Publishers Weekly and Booklist. Recently she was kind enough to engage in an e-mail interview with the Arizona Daily Wildcat. [Read article]



C. C. Adcock
Rating: 5/10
C.C. Adcock's new album, Lafayette Marquis, has an upbeat sound, and the singer has one of those sexy, raw voices.
The music, although a good listen, is another neo-country pop album that attempts to be rock. It is catchy with an edge, but an overall pop version of modern blues rock. Adcock rocks his blues away, filling an only semi-hard, somewhat sweet sort of rock with guitar solos and twang. [Read article]




showAds('bigbutton')?>






showAds('mediumbutton')?>

showAds('wildlinks')?>