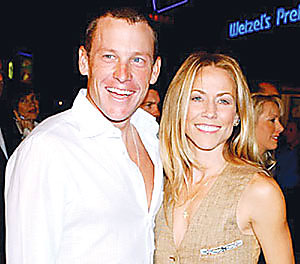 The associated press

Lance Armstrong pictured with his bride-to-be, Sheryl Crow. It's not clear what's worse, the constant doping allegations against Armstrong or the fact that the radio's fallback always seems to be Crow's 'The First Cut Is The Deepest.' Oy.

By Nate Buchik
Arizona Daily Wildcat
September 15, 2005
Print this


A collection of views, gripes and nonsense

Gripe of the Week

I'm getting pretty sick of Lance Armstrong. No one really cares if he was doping because no one cares about cycling. This is not a scandal that matches the steroid outbreak in baseball, no matter how much press it gets in France. Now Armstrong is engaged to Sheryl Crow, who did a duet with Kid Rock a couple years back. Guilty by association, Stretch. And finally, Armstrong says he may be coming out of his two-week-long retirement to train for another Tour de France. Stop it, Lance. If your sport is more interesting when a 5-year-old learns how to do it, you shouldn't be on "SportsCenter."

Random review

A possibly homeless man has opened up a store on the sidewalk of Park Avenue, just south of First Street. He's selling pens and lighters, two for $1. He has a nice cardboard box in which he keeps the items and a business permit, too. Because the lighters and pens work, I figured I'd give this guy a little press. God knows he can't afford advertising.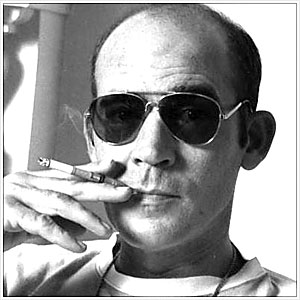 "Football season is over." -Hunter S. Thompson
Quoteworthy
The title of Hunter S. Thompson's suicide note, written in February, was recently published in Rolling Stone. Too bad he couldn't ride it out for another year of football.
Staff Picks
Watch this:
The new season of "Family Guy" started last week on Fox. While "The Simpsons" continues to suck (a future gripe?) and "American Dad" has a character likeability problem, Peter and Stewie are fresh, funny and necessary viewing every Sunday.
Download this:
Top three rock albums of 2005 so far: Okkervil River's Black Sheep Boy, The Decemberists' Picaresque and The Mountain Goats' The Sunset Tree.
Read this:
www.gawker.com. I'm sure you've all been here, but just in case you haven't, meet the PageSix of the Internet. Plus they have a hilarious ongoing feud with PageSix for the title of most respected gossip column. That's like asking who's classier, Paris Hilton or Jeffrey Dahmer? Impossible to decide ...
Newsworthy
Apple has released the newest iPod, the 4 GB iPod Nano. About the size of a business card, it's replacing the spastically colored iPod Mini. Retailing for $199 for the 2 GB and $249 for the 4 GB, it's still a bit pricey. But, damn, it sure is shiny.


Write a Letter to the Editor