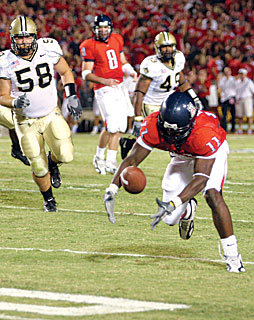 Claire C. Laurence/Arizona Daily Wildcat

Senior running back Mike Bell loses track of a lob pass from sophomore quarterback Richard Kovalcheck during Saturday's 31-24 loss to No. 11 Purdue. Bell ran for a total of 35 yards while Arizona as a whole only amassed 9 on the ground.

By Kyle Kensing
Arizona Daily Wildcat
Monday, September 19, 2005
Print this


Purdue rushing game dispatches Arizona defense

Prior to Saturday night's matchup with No. 11 Purdue, members of the Arizona football team were expecting to see a pass-heavy Boilermaker offense, and for good reason.

After all, this was the same Purdue program head coach Joe Tiller has built around a stellar quarterbacking corps over the last decade.

But in Saturday's 31-24 loss before a capacity crowd at Arizona Stadium, the Arizona defense faced something totally unexpected — an almost run-exclusive Boilermaker offense from a spread-option set.

"I thought they were going to challenge (the secondary) and throw the ball downfield," said senior safety Darrell Brooks. "We were surprised when they kept going at us with the run."

Purdue rushed 45 times for 239 yards and registered all four of its touchdowns on the ground, while senior quarterback Brandon Kirsch went to the air just 15 times.

Three of those Purdue touchdowns came from senior running back Jerod Void, who finished the game second on the Boilermakers' career list for rushing touchdowns behind six-time NFL Pro Bowl fullback Mike Alstott.

Void also ended the night with a game-high 107 yards on 18 carries, including the game's first score on a career-best 55-yard carry five minutes into the first quarter.

Arizona head coach Mike Stoops said big plays like that were the difference against a Purdue team he said will be in the thick of the national championship hunt.

"We let them tee off on us," Stoops said. "The big plays seem to be our Achilles' heel."

Stoops said some of the Boilermakers' rushing success came from Wildcat miscues, but that it was mostly a result of the visitors' physical strength.

Summary

Score by quarter
| | | | | | |
| --- | --- | --- | --- | --- | --- |
| | 1 | 2 | 3 | 4 | F |
| Purdue (2-0) | 14 | 7 | 10 | 0 | 31 |
| Arizona (1-2) | 7 | 10 | 0 | 7 | 24 |
Offensive Stats
Purdue
Passing Yards: 140 Rushing Yards: 239
Brandon Kirsch (QB): 7-of-15, 140 yards, one interception; eight carries, 54 yards. Jerod Void (RB): 18 carries, 107 yards.

Arizona
Passing Yards: 287 Rushing Yards: 9
Richard Kovalcheck (QB): 23-of-40, 287 yards (career-high), three touchdowns, one interception. Brad Wood (TE): five catches, 96 yards, two touchdowns.
Defensive Stats
Purdue
Brian Hickman (CB): interception
Arizona
Marcus Hollingsworth (S): interception, sack
"A lot has to do with Purdue," he said. "That's a very talented and well-coached football team."
Purdue's running attack, originating out of a shotgun set, caught Arizona off guard early, as the Boilermakers gained 176 yards and reached the end zone three times in the first half.
The Wildcats stifled Purdue's running game a bit in the last two quarters, but the Boilermakers were still able to run down the clock in the game's final moments.
"We tried to stay in our gaps, play tough and play physical and do what we are coached to do," said senior linebacker Sean Jones said of the Wildcats' second-half adjustments.
Purdue's ground game was in sharp contrast to the two teams' meeting in 2003, when current Chicago Bears quarterback Kyle Orton torched Arizona for 267 yards and three touchdowns through the air in a 59-7 victory at home.
"They're a better team than they were two years ago, but we're not the same team, either," Brooks said.
The Wildcat defense struggled against not only Purdue's rushing attack but also the residue from a string of devastating injuries.
Senior defensive ends Marcus Smith and Copeland Bryan were both on the sidelines Saturday with ankle injuries.
Sophomore Dane Krogstad, Arizona's leading tackler in its first two games with 23, missed the game with an unspecified shoulder ailment.
Senior Spencer Larsen, sidelined in the spring with a torn anterior cruciate ligament, was hampered with a hamstring injury early in his first game since 2002.
Junior Marcus Hollingsworth answered the call for the depleted Wildcats, with five tackles, including a sack, as well as the team's only interception.
Junior linebacker Akin Akinniyi and Brooks both led the defense with seven tackles each.


Write a Letter to the Editor