Wednesday, September 21, 2005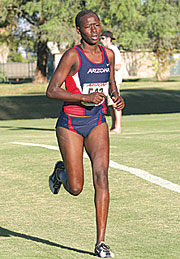 Hailing from halfway across the globe, four athletes came to Arizona to do what they do best: run.
On squads of mostly Americans, this foursome from Kenya has raced to the front of the Arizona cross country teams, led by championship-caliber junior Robert Cheseret.
Senior Jonah Maiyo joins Cheseret on the men's squad, as senior Fanice Chepkorir and Cheseret's sister, freshman Irine Lagat, run on the women's team.
"They're good kids, and they're fast," said Arizona cross country head coach James Li. "They work very hard, and obviously, they run very well. Nowadays, most schools like to have Kenyans if they could." [Read article]

·
A slice of bacon: Mike, Mike and Mike in the morning
·
Pastner's notebook: Team chemistry brewing in scrimmages
·
Junior tight end making big plays in big moments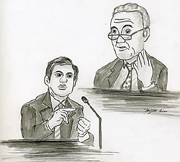 Last week, the people of the United States were able to witness something they have not seen since 1994, the nomination hearings of a U.S. Supreme Court justice.
One would think that an event of such importance, with the opportunity for Judge John Roberts to become the chief justice for life hanging in the balance, would be a major source of concern for the people and their elected representatives.
But the hearings received relatively little media attention, and the Senate Judiciary Committee's hearings did little to help the public understand Roberts' views on many of the issues he is likely to face while on the court. [Read article]

·
A vote for Dunbar is a vote against students
·
Creationism repackaged
·
Mailbag
Latest Issue: September 15, 2005
Latest Issue: September 20, 2005
More than a pop culture phenomenon, yoga is growing as a route to spirituality
Spirituality has rapidly become one of the fads popularized by mainstream media and celebrities, whether it is Madonna plugging Kabbalah or Sting sculpting his body with yoga. But the practice of yoga has 5,000-year-old roots and is much more complex than its popular portrayal.
Yoga, in general, combines spiritual, physical and emotional practices to form a deeper connection with one's self and the outer world. However it is not limited to a singular definition and seems to take on a different meaning to everyone who practices. [Read article]

require('/home/webby/html/papers/98/polls/current.php')?>

showAds('bigbutton')?>






showAds('mediumbutton')?>


showAds('wildlinks')?>