Friday, September 17, 2004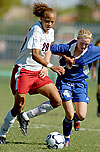 Soccer set to match last year's win total
Northern Arizona visits Tucson to battle 5-1 Cats
The UA soccer team will look to keep its perfect record against NAU intact in the Wildcats' third home game of the season, tonight at 7 at Murphy Stadium.
"It will be a good game. It's an in-state rivalry, and that always brings more to the game than anything else," said UA junior midfielder Jennifer Klein. "In any in-state rivalry, you want to be the 'in-state champions.'" [Read article]




Volleyball to take D.C. by storm at American
The Arizona volleyball team – and its national ranking – is on the move again this week as the squad travels to Washington, D.C., for the American University Tournament.
The No. 15 Wildcats – up four spots after a homestand sweep – open the tournament against host American at 4 p.m. today. Arizona (5-2) will then take on Temple on Saturday at 7 a.m., followed by Albany at 1:30 p.m.
Though none of Arizona's opponents are ranked this weekend, UA head coach Dave Rubio said his coaching staff is careful not to overlook the competition. [Read article]



Men's tennis opens out west at USTA Futures
Three members of the UA men's tennis team head west today to face former and current college stars in this weekend's USTA Futures in Costa Mesa, Calif.
UA sophomore Jason Labrosse and freshmen Bruno Alcala and Mitchell Brown will begin competition this afternoon in the event, an amateur invitational tournament put on by the United States Tennis Association at the Costa Mesa Athletic Club featuring players from across the nation. [Read article]




Cross-Country heads west for San Diego meet
The men's and women's cross country teams travel to San Diego this weekend for the 60th annual Aztec Invitational, hosted by San Diego State University at Balboa Park.
The women open up competition Saturday and will run a 5-kilometer race beginning at 8:45 a.m., while the men's 8-kilometer event gets underway at 10 a.m.
The Wildcats will face several of the nation's top teams in the weekend event. The women will face preseason No. 15 Northern Arizona and No. 20 Duke, Cal State Northridge, Loyola Marymont, Pepperdine, San Diego State and Southern Utah. Southern California and the University of San Diego will all be competing along with several other junior colleges and club teams. [Read article]




Cats pack heat against Wisconsin
If the Arizona football team (1-1) wants any shot at defeating No. 17 Wisconsin (2-0) tomorrow afternoon, it's going to have to turn up the heat.
Luckily for the Wildcats, that shouldn't be much of a problem, in the literal sense.
Arizona will host its first September day game in 13 seasons when the Badgers visit Arizona Stadium for a 1 p.m. kickoff to be televised nationally on FSN. Temperature at game time is expected to be in the mid-to-high 90s. [Read article]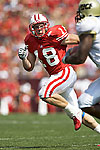 OPPONENT ANALYSIS: Defense name of the game for Badgers
If figuring out a way to stop its opponents' offensive attacks was the Arizona football team's focus so far this season, finding a way to crack Wisconsin's top-notch defense has taken center stage this week.
In Arizona's first two contests of the year, the Wildcats' focus centered around Northern Arizona' all-conference quarterback and Utah's Heisman hopeful.
But In Wisconsin, the Badgers are all about the D. [Read article]




Catching up fast
After semester away from football, sophomore Eidson has gone from walk-on to key player at UA
Less than 24 hours before the UA football team's season finale against Arizona State last year, sophomore receiver Ryan Eidson received a phone call that his house had been broken into.
It shouldn't be a surprise that he responded with his first two career catches in the face of a little adversity. [Read article]



Staff Picks: weekend matchups
Amanda Branam
Arizona Daily Wildcat
Lindsey Frazier
Arizona Daily Wildcat
Roman Veytsman
Arizona Daily Wildcat
[Read article]




showAds('bigbutton')?>




showAds('mediumbutton')?>

showAds('wildlinks')?>