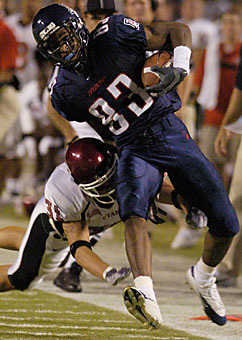 SAUL LOEB/Arizona Daily Wildcat

UA wide receiver Mike Jefferson attempts to break away from Utah defenders during the Utes' 23-6 victory over the Wildcats last weekend at Arizona Stadium.

By Brett Fera
Arizona Daily Wildcat
Friday, September 17, 2004
Print this


If the Arizona football team (1-1) wants any shot at defeating No. 17 Wisconsin (2-0) tomorrow afternoon, it's going to have to turn up the heat.

Luckily for the Wildcats, that shouldn't be much of a problem, in the literal sense.

Arizona will host its first September day game in 13 seasons when the Badgers visit Arizona Stadium for a 1 p.m. kickoff to be televised nationally on FSN. Temperature at game time is expected to be in the mid-to-high 90s.

"I think you have to address it," Wisconsin head coach Barry Alvarez said earlier this week. "We have a plan to deal with that as best we can, but they've got to play in it too."

Arizona's Keoki Fraser said he and his teammates think the heat will almost certainly work to the Wildcats' advantage.

"I hope it's 105 degrees, to be honest. The hotter the better," Fraser said. "I think it's probably what, like 75 in Wisconsin right now. We need to use our advantages, which is the sun."
Arizona Wildcats (1-1)

vs.

Wisconsin Badgers (2-0)

Tomorrow, 1 p.m.
KCUB 1290 AM
FSN (national)
---
Arizona Stadium
One way for Wisconsin to try and beat the heat would be to consult with its tight ends coach, Rob Ianello, who spent the better part of nine years on the UA sidelines as a recruiting coordinator and wide receivers coach.
Ianello's return isn't the only reunion of sorts, as Alvarez was the linebackers coach at Iowa during UA head coach Mike Stoops' playing days with Hawkeyes.
After failing to score a touchdown during last week's 23-6 home loss to Utah - Arizona managed just two Nicholas Folk field goals - sunlight and high temperatures aren't the only heat the Wildcats will need to bring if they hope to get past the Badgers.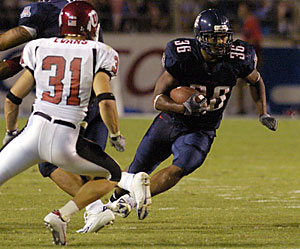 SAUL LOEB/Arizona Daily Wildcat
UA junior running back Gilbert Harris scampers for a few of his 56 yards rushing during the Wildcats' 23-6 home loss to Utah last weekend at Arizona Stadium.
Wisconsin enters the game with one of the nation's best overall defensive groups, led by senior defensive back Jim Leonhard, and hasn't allowed a touchdown through two games this year.
Despite falling by 17-points, the UA offense efficiently moved the ball upfield time and again, but failed to hold on to the ball well, turning it over four times.
Junior running back Mike Bell, perpetrator of two fumbles in the game, is expected to be near full strength after a cut from a helmet to the knee on the game's first play from scrimmage sidelined him temporarily against Utah.
Bell ran for 118 yards on a career-high 31 carries against Northern Arizona two weeks ago, but handled the ball on the ground just seven times for 27 yards against Utah.'
Wisconsin, meanwhile, will be without its own marquee tailback. Senior running back Anthony Davis, who rushed for more than 3,000 yards combined during his first two seasons in Madison before injuries slowed him to just 682 last year, isn't expected to play for the second consecutive game with an eye injury.


Write a Letter to the Editor