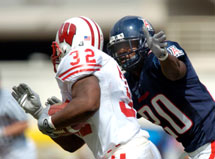 CHRIS CODUTO/Arizona Daily Wildcat

Lamon Means grabs ahold of Wisconsin's tailback Booker Stanley during the first quarter of Saturday's game. Arizona lost 9-7 to the Badgers.

By Brett Fera
Arizona Daily Wildcat
Saturday, September 18, 2004


Arizona sophomore kicker Nicholas Folk missed a 47-yard field goal attempt with less than a minute to go, securing the Arizona football team's second straight loss, a 9-7 heartbreaker at the hands of No. 20 Wisconsin.

A 23-yard field goal by Wisconsin kicker Mike Allen with five minutes to play proved to be the game-winner for the Badgers.

"We had an opportunity to win, but there's a fine line between winning and losing," said UA head coach Mike Stoops.

The loss was the Wildcats' 17th in its last 19 games against ranked opponents, dating back to 2000, when Dick Tomey was still head coach of the Wildcats.

Coming close to a victory once again didn't sit well with the Wildcat players, playing their third game under Stoops.

"We played as a team but it just wasn't enough to get it done," said UA defensive back Lamon Means, who said the team wasn't interested in moral victories anymore. "No, it's not progress. The only thing that matters is a win."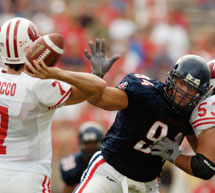 CHRIS CODUTO/ARIZONA DAILY WILDCAT
Arizona's Paul Phillip goes to deflect a pass from Wisconsin's John Stocco during the second quarter of Saturday's 9-7 loss to Wisconsin.
The skittish UA offense managed to draw first blood late in the second quarter when sophomore quarterback Kris Heavner connected with wide receiver Mike Jefferson for a 44-yard touchdown strike.
The score came with one minute to go in the first half, just moments after lightning and heavy rain delayed the game 88-minutes, with 6:13 to go in the second quarter and the game scoreless.
Jefferson had to come back to catch the short throw from Heavner, but had plenty of time to make the grab and still dive for the endzone after Wisconsin All-American safety Jim Leonhard slipped on the wet Arizona Stadium turf, unable to recover in time.
"We managed the ball well, but, again, we just need to learn how to get to the endzone," Stoops said.
The delay forced Arizona Stadium officials to clear much of the facility, including the ZonaZoo student section. Much of the student contingent stayed on the premises, however, waiting underneath the stands on the east side until play resumed.
Wisconsin entered the fourth quarter trailing 7-0, but a 7-yard touchdown run by Booker Stanley just 16 seconds in had the Badgers thinking comeback. Allen missed the ensuing extra point attempt.
Stanley shouldered the bulk of the Wisconsin offensive attack, running for 135 yards and the lone UW touchdown on 30 carries.
For the second consecutive game, UA junior fullback-turned-tailback Gilbert Harris led the Wildcats in rushing, carrying the ball 11 times for 56 yards. Junior tailback Mike Bell broke off a 34-yard scamper early in the second quarter, but finished with just 43 yards on nine carries.


Write a Letter to the Editor