Tuesday, October 4, 2005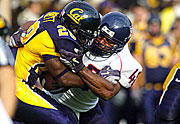 Run defense will remain concern against No. 1 USC
Coming off a 28-0 loss Saturday at No. 10 California, the Arizona football team has little time to lick its wounds before its road matchup this weekend against top-ranked Southern California.
Arizona head coach Mike Stoops said in his weekly press conference yesterday that the Wildcats will focus this week on the errors that cost the team in Berkeley, Calif., and could bury it against a USC team that, behind golden-boy quarterback Matt Leinart, overcame a 21-3 halftime deficit Saturday to beat No. 17 ASU 38-28. [Read article]

·
Inside the UA athletes: Family matters, on and off court
·
From the booth: Fans need to cut Cats some slack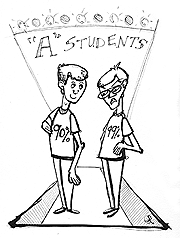 Figuring out what to study for during finals always seems like something of a game:
Calculate what percent you have in each class and what grade you need on the final, anticipate how hard the final exams in each of the classes will be, and then decide where limited study time can most efficiently be allocated.
If your grade in a given class is 85 percent or above 95 percent, you don't need to worry about it as much as other classes. After all, with 85 percent before the final, the chances of jumping to 90 percent or dropping below 80 percent are somewhat slim. Much better to study for the class you have 90 percent in. [Read article]

·
Editorial: A plaza of one's own
·
Mailbag
Latest Issue: September 29, 2005
Latest Issue: October 4, 2005
Season's fashion trends tend toward relaxed, femine looks
Fashion is a temperamental, unexplainable beast. It's quite the phenomenon to think that people will dress in the same style without an explicit agreement.
Take for example the flappers of the '20s or the disco, glam rock era of the '70s or whatever the hell they were thinking in the '80s.
The unspoken group assent to style is inexplicable as far as trying to find its source. All we can do is observe the aftereffects. In regard to this fall fashion season, here are a few of the things that we've all somehow implicitly agreed to. [Read article]

require('/home/webby/html/papers/98/polls/current.php')?>

showAds('bigbutton')?>






showAds('mediumbutton')?>


Tuesday
---
5:30 pm
UATV: Daily Dose
6 pm
UATV: Wildcast
7 pm
Nightmare on Elm Street
9 pm
Buffy the Vampire Slayer
11 pm
Donnie Darko


Show Schedule
Interview Archives

showAds('wildlinks')?>