Thursday, October 6, 2005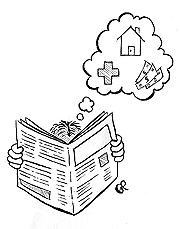 My parents have this philosophy of making me learn things for myself, which probably occasionally works. In second grade, they gave me some money for the month, an organizer to keep it in and a mandate to make a budget. Being "let her learn it herself" types, they gave me extra money, waiting to see how I'd use it to help others.
Here's what I did with my surplus: I bought Tootsie Rolls. I'm still absolutely mystified by this purchase. I definitely don't like Tootsie Rolls now, and I can't imagine that I did at the time. But somehow, when I saw that big, bulk 2-pound bag, I just knew I had to have it. [Read article]

·
Writing in the margins: There's room for religion
·
Placing education back on top in U.S.
·
Mailbag
Latest Issue: October 5, 2005
Latest Issue: October 4, 2005
Season's fashion trends tend toward relaxed, femine looks
Fashion is a temperamental, unexplainable beast. It's quite the phenomenon to think that people will dress in the same style without an explicit agreement.
Take for example the flappers of the '20s or the disco, glam rock era of the '70s or whatever the hell they were thinking in the '80s.
The unspoken group assent to style is inexplicable as far as trying to find its source. All we can do is observe the aftereffects. In regard to this fall fashion season, here are a few of the things that we've all somehow implicitly agreed to. [Read article]

require('/home/webby/html/papers/98/polls/current.php')?>

showAds('bigbutton')?>







showAds('mediumbutton')?>


Thursday
---
5:30 pm
UATV: Daily Dose
6 pm
UATV: Wildcast
6:30 pm
The DRSC
7 pm
Young Frankenstein
9 pm
The Butterfly Effect
11:30 pm
Evil Dead II

Show Schedule
Interview Archives

showAds('wildlinks')?>