By Nate Buchik
Arizona Daily Wildcat
Thursday, October 6, 2005
Print this


A collection of views, gripes and nonsense

Quoteworthy
"I have worked very hard to get where I am," Paris Hilton, citing her promising career as one of the reasons it's not the right time for her to marry rich guy fiance Paris Latsis.

Random review

Britney Spears is auctioning off a bunch of the stuff she doesn't use anymore to benefit hurricane relief charities. Jewelry, furniture and several pairs of outdated sunglasses that are totally 2001 are included in the auction. However, the real prize is a jewel-encrusted bra that is currently going for $30,000. But I'm sure there's something of the more than 400 items that's more affordable. We all want a piece of Britney, and here's our chance. I give this charitable gesture an "A-", because nothing can beat Sean Penn going out with his boat in the streets of New Orleans.

Gripe of the week

It's about time that celebrities stop naming their kids. I can handle names like "Rose" or "Rainbow" or "George Foreman IV," but things have gone too far. First, Jason Lee of "My Name Is Earl" and Kevin Smith's films named his son Pilot Inspektor. That kid should do just fine in grade school. Now this week, Nicolas Cage has had a son with 21-year-old wife Kim and decided to name him Kal-El. Sound familiar? It's the same name Jor-El gave to his Kryptonian son before he was sent to Earth, where he became Clark Kent and eventually Superman. The boy has some big feet to fill. Why not just name him Hercules? Or how about God?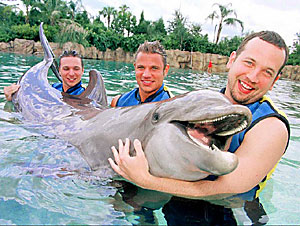 *Nsync wishes they had this love
Newsworthy
I hate it when divorce is the biggest news of the week, because it brings back such painful memories ... like "Mrs. Doubtfire." But Us Weekly is reporting that the gosh-darn cutest couple, Nick Lachey and Jessica Simpson are finally, actually calling it quits. One is stupid and successful; the other is neither. Poor Nick might have to call for a 98 Degrees reunion because his gravy train is chugging away.
Watch this
The fifth season of "Curb Your Enthusiasm" is in top form on HBO. This time Larry is trying to find out if he was adopted. So far, he's also had to look for a way to win back the lesbian collective that loved him, control his racist dog and change the sandwich named after to him to something without whitefish. It's the same as "Seinfeld," only better.
Read this
Generate detailed animated drawings of yourself and your friends (or celebrities you wish were your friends), with more than 20 categories including eyes, hairstyle, etc. It may sound a little lame, but this is the closest I get to drawing. http://illustmaker.abi-station.com/index_en.shtml
Sarcastic comment
Sarcastic commentI can't wait to see Ashlee Simpson perform this weekend on "Saturday Night Live." I wonder if there will be some joke about a "mix-up" before her first song? This is really going to take a courageous effort from the young harlot — I mean starlet. She's going to be great because, after all, she's been a "musician" for almost three years.
Download this
Go to the 4AD Web site (www.4ad.com) and check out a free track from TV on the Radio. They were in the studio and got totally mad about the hurricanes and made a song about how they hate George W. Bush. It's called "Dry Drunk Emperor" and it proves, once again, that liberals make the best music.

Write a Letter to the Editor