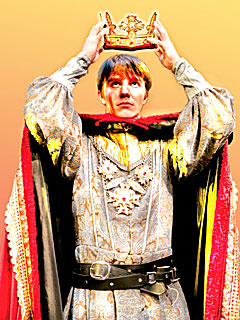 Matt Robles/Arizona Daily Wildcat

Clay Froning, who plays Prince Hal in Arizona Repertory Theatre's production of 'Henry IV Parts I & II,' crowns himself after his father's death to usurp the thrown. Oh, Shakespeare, dost thine thirst for drama ever get quenched?

By Susan Bonicillo
Arizona Daily Wildcat
Thursday, November 3, 2005
Print this


An ailing king. An irresponsible and callous young heir. Threats of rebellion and treacherous competitors plying for a throne that has already been usurped. This is the world of "Henry IV Parts I & II," one of Shakespeare's historical plays. It is in this setting that Shakespeare recreates the atmosphere of England struggling to assert itself after the murder of the innocent Richard II by Henry IV. Civil war looms from all sides and Henry, despite poor health, attempts to hold together his country and prepare his seemingly unreliable son Hal to take over in his stead.

Amid the levels of political intrigue and cloak and dagger dealings, the play doubles as a coming-of-age story. The play serves as a testament to Prince Hal's transformation from a rowdy, reckless youth to the responsible and calculating leader of the Britons.

For theatre production senior Clay Froning, Prince Hal, the transformation was a challenge but in the end proved to be an amazing and great journey, one of the greatest Shakespeare has ever written, Froning said.

"We see him go from tavern brawler and this wily rascal to later stepping up the plate," Froning said.

The story may revolve around the ascension of Hal as the future king, but the play involves a revolving door of characters.

Thomas Percy, Earl of Wooster, is just one of these characters. Played by Andrew Goldwasser, theatre production senior, Wooster rebels against the king, seeing Henry IV as unjust and wishes to replace him with another. His rebel efforts aren't exactly successful as he is treated to the indignities of an off-screen death, but he is resurrected later in the roles of Pistol and Mowbray in Part II.

In the same spirit of sacrificing all for art, theatre production senior Dane Corrigan, dyed his flaxen hair black for his role as the traitor Hotspur.

Describing Hotsupr as a boiling pot with a loose top in a surprisingly well-rehearsed interview response, Corrigan has an on-screen death as people are wont to do in this play and comes back as Justice Shallow in Part II.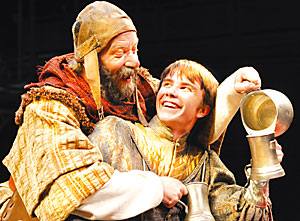 Matt Robles/Arizona Daily Wildcat
War, battles over the thrown and a coming-of-age story are abound in Arizona Repertory Theatre's production of 'Henry IV.'
The climatic battle scene between Hotspur and Hal which marks the end of Part I is a culmination of a year of stage combat training, something that Corrigan said he has been looking forward for quite a time.
Theatre production senior, Sara Hayes, Hotspur's wife and eventual widow, found that though the play was male-dominated she enjoyed the role.
"It's nice, the scenes are a great contrast to the male scenes," Hayes said. "There's more heart and fun and for Kate she experiences a wider range of things from fear and playfulness."
Under the joint direction of Brent Gibbs, theatre arts associate professor, who is in charge of Part I and Harold Dixon, theatre arts professor, of the latter half the actors involved were deeply interested by the joint directorial effort. Since the historical plays are continuations of the previous there was a great deal of collaboration between the two productions.
With a six-hour total run time for the two parts the schedule was grueling. "You give up everything else," Froning said.
Yet, the end result promises to be a worthy spectacle complete with elaborate costumes and an impressive technical design resulting from a joint effort between the School of Theatre Arts, and the electrical and computer engineering department.
"The historical plays are some of Shakespeare's most under-appreciated works," Goldwasser said. "If you want to see everything that Shakespeare is capable of come see this play."
Previews for "Henry IV Part I" are today at 7:30 p.m. and Sunday, at 1:30 p.m. Matinees are Nov. 12, 13 and 19, at 1:30 p.m. Evening performances are on Nov. 10, 16, 18, 29, Dec. 1 and 3 at 7:30 p.m.
Previews for "Henry IV Part II" are tomorrow, and Thursday, at 7:30 p.m. Matinees: Nov. 20, Dec. 3 and 4 at 1:30 p.m. Evenings performances are on Nov. 11, 17, 19, 30 and Dec. 2 at 7:30 p.m.
All performances are held at the Laboratory Theatre located on campus near the southeast corner of Park Avenue and Speedway Boulevard.
Tickets are $26 general admission, $24 for senior citizens and UA employees, $19 for students and $17 for previews. Tickets are available through the Fine Arts Box Office, 621-1162.


Write a Letter to the Editor