Thursday, November 3, 2005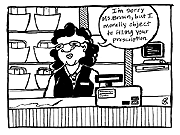 To steal a phrase from President Kennedy, Tucsonans sought redress in the streets last week after a pharmacist refused to fill a rape victim's prescription for emergency contraception because of moral objections.
Picket signs were unfurled in front of the Fry's pharmacy where the woman was turned away, and one demonstrator was quoted in this newspaper as saying that the victim "was not only raped sexually, but raped by a pharmacist's religious convictions." [Read article]

·
(Wo)Men in black
·
Alltel tells a lot
·
Editorial: Give UA its money back
·
Mailbag
Latest Issue: November 3, 2005
Latest Issue: October 25, 2005
Are you scared yet?
That time of year is approaching once again. The days are no longer endless, and tank tops are being replaced with long sleeves. But along with chilly nights comes one juicy holiday.
Ghosts and goblins are not just a thing of our childhood. In fact, Halloween seems to get better as we reach our adolescence. We are no longer restricted to a two-hour window of trick-or-treating and parents forcing us to bed with the ultimate sugar high. Now, Halloween is yet another reason to party. [Read article]

require('/home/webby/html/papers/98/polls/current.php')?>

showAds('bigbutton')?>







showAds('mediumbutton')?>


Thursday
---
5 pm
UATV: Daily Dose
6 pm
UATV: Wildcast
6:30 pm
The DRSC
7 pm
I Heart Huckabees
9:30 pm
Miracle on 34th Street
11:30 pm
The Notebook

Show Schedule
Interview Archives

showAds('wildlinks')?>