Wednesday, November 9, 2005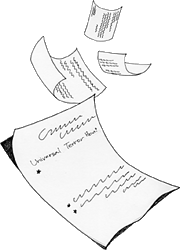 The Bush administration and Sen. John McCain are like a couple of co-workers who have been through a bad breakup but still have to work together amicably in the same office building.
Although both parties have contended on numerous occasions that their ties with one another are friendly and strong, the two have often butted heads, and the history behind the relationship is full of the sort of drama that should be reserved for another utterly mindless, yet helplessly captivating, episode of "Laguna Beach." [Read article]

·
Urban upheaval à la française
·
Mailbag
Latest Issue: November 3, 2005
Latest Issue: October 25, 2005
Are you scared yet?
That time of year is approaching once again. The days are no longer endless, and tank tops are being replaced with long sleeves. But along with chilly nights comes one juicy holiday.
Ghosts and goblins are not just a thing of our childhood. In fact, Halloween seems to get better as we reach our adolescence. We are no longer restricted to a two-hour window of trick-or-treating and parents forcing us to bed with the ultimate sugar high. Now, Halloween is yet another reason to party. [Read article]

require('/home/webby/html/papers/98/polls/current.php')?>

showAds('bigbutton')?>







showAds('mediumbutton')?>


showAds('wildlinks')?>