Thursday, December 1, 2005


Local group brings improv to the people
Ari Lerner, Anthony Fama and Matt Dhyr are starting a revolution. A revolution of funny, in the form of improvisational street comedy with their group, The Street-Prov Theatre Collective.
Monday evening I find myself in a not-too-well-lit alleyway south of campus. It's freezing (by Tucson standards). All 57 degrees out here are inducing bone-rattling vibrations. [Read article]




Tucson and campus calendar
Today
Normanoak - This mystical and magical folksy band likes to sing about the forest and tree-hugging hippie stuff. They can also claim the award for strangest album name ever created: Born a Black Diamond. Sounds catchy. 8 p.m. ITL Café. 415 N. Fourth Ave.
Nativity Scenes - It's in our churches, in our politics, in our cinnamon buns and even in our art. Come see how religion, namely the infant Jesus, has affected painting throughout the ages. 1:30 p.m. to 2:30 p.m. Free. Tucson Museum of Art Education Center Auditorium. 140 N. Main Ave. [Read article]



Waiting for nothing
You always remember your first time
Tucson is a really big small town. Despite the amount of sprawl, the Old Pueblo has retained some sense of community and congeniality. Even if you've only been here for a year or two and rarely leave the university neighborhood, it's almost impossible not to frequently run into someone you either a) know, b) know of, c) know someone who they know or d) have slept with. [Read article]



Learning the language of wine
"I am not drinking any fucking merlot."
-Miles Raymond on his wine preferences from the movie "Sideways"
With the face of a morose bloodhound, Paul Giamatti brought the world of wine to the American public along with the ensemble of the award-winning movie "Sideways."
The critics' darling of last year, "Sideways" highlighted the travails of middle age, serving as both an exploration of a second coming of age and a basic crash course in all things that are fermented and grapey. [Read article]




Baumbach brings it all back home
Noah Baumbach is a creative force to reckon with. He has proved his writing excellence with his work on "Life Aquatic," but his new film "The Squid and The Whale," which he wrote and directed, shows that he can make a movie that is not only fun and entertaining but also deeply moving.
"The Squid and the Whale" is among the most original films of the year. This is because of Baumbach's move away from conventional filmmaking. He described this in an interview with Deborah Solomon, "I grew up in the heat of '70s postmodern fiction and post-Godard films, and there was this idea that what mattered was the theory or meta in art. My film is emotional rather than meta, and that's my rebellion." [Read article]




Save your 'Rent' money for another movie
"Rent" starts off panning over the eight cast members standing on a dusty wooden stage facing an empty auditorium belting out the hit theme song "Seasons of Love." Good omen? Sadly, no.
The idea of "Rent" as a movie is novel. It was bound to happen, giving Hollywood a chance to cash in on the award-winning Broadway musical by the same name.
"Rent" chronicles the story of seven friends living the bohemian life in New York. Mark (Anthony Rapp) is an aspiring filmmaker, Roger (Adam Pascal) is a sensitive guitarist who can't write any songs, Tom (Jesse L. Martin) is their third roommate, Angel (Wilson Jermaine Heredia) is the flamboyant drag queen who Tom falls for, Mimi (Rosario Dawson) is an exotic dancer who catches the eye of Roger, Maureen (Idina Menzel) is the drama queen who used to date Mark until she dumped him, and Joanne (Tracie Thoms) is the woman she dumped him for. They're struggling just to pay the rent for their apartments, while their former roommate Benny (Taye Diggs) is trying to shut the apartment complex down and jack up their rent in order to build a cyber studio. [Read article]




Theron has chance to 'Flux' muscles
Maybe, just maybe Doug Benson from www.bobanddavid.com - the Web site dedicated to the short-lived but brilliant "Mr. Show" - will finally cut Charlize Theron a break. Benson's "I Love Movies" column is a savage attack of stars, starlets and films that didn't pull any punches on Theron's Oscar-winning role in "Monster." Said Benson of the film: "Why would I go see an ugly Charlize Theron when I've never liked a movie featuring the pretty Charlize Theron?" Ouch. [Read article]




Scatter Shots
A collection of views, gripes and nonsense
Random review
The most boring Hollywood couple, Courteney Cox and David Arquette, is developing a sitcom for ABC about a private investigator with Arquette set to star. While I normally wouldn't review a program that hasn't yet aired or even started filming, I feel comfortable letting you know that this sucks.
A sarcastic comment [Read article]




Diverse dance show fun for everyone
Grace. Beauty. Agility. The Grim Reaper? "In the Season," two new shows by the School of Dance, is an integration of ballet, modern and jazz dancing mixed with popular music and style. It is a flight away from what most people picture when they think of dance. This is definitely no "Nutcracker."
Featuring such diverse themes as cats, death, rock climbing and paralysis, "In the Season" shows the talents of both graduate and undergraduate students. The specific dances that are scheduled to be performed vary between the shows today and tomorrow, and the shows on Saturday and Sunday, giving more students the opportunity to showcase their talent. [Read article]




Production unfolds life of legend Hank Williams
Sightings of Elvis Presley can take place anywhere from Nashville, Tenn., to the cover of a local supermarket tabloid, but where is the man behind the music of the king?
Music legend Hank Williams, who has been labeled the influence of all the greats of country, blues and rock 'n' roll, is being recognized in the production "Hank Williams: Lost Highway," which is being brought to Tucson by the Arizona Theatre Company. [Read article]




'Collisions' is inventive, at least when you can hear it
Calla describes its sound best when it says it's the "loudest quiet rock band." In fact, Calla likes to stay so low and quiet you probably have never even heard of the band. Collisions is Calla's fourth album, preceded by Calla in 1999, Scavengers in 2001 and Televise, in 2003.
The album kicks off with "It Dawned on Me." The song is lead by a driving harmony in the background by the guitar that pounds through your head. Combined with the lead singer's voice, it creates a creepy and moody sound, setting up an interesting tone for the album. [Read article]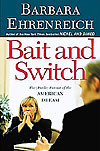 Ehrenreich tries on a white-collar in 'Bait and Switch'
Barbara Ehrenreich, best known for "Nickel and Dimed," her expose on the realities of trying to get by on blue-collar low-wage jobs, has gone undercover again. This time, instead of waiting tables or slaving away for Wal-Mart, she has chosen to tackle the world of white-collar employment (or unemployment, in this case). This journalistic endeavor seems better suited to the well-educated Ehrenreich, whose "Nickel and Dimed" experiences have been called unrealistic, with critics blaming her educational and professional background along with the comfortable nest egg she had to fall back on for tainting her experiences. [Read article]




Steve Carell chooses stapler as weapon of choice
He was that dumb guy in "Anchorman," and also that dumb guy in "The Daily Show" and that dumb guy in the slightly dumb Jim Carrey movie. Now Steve Carell is playing the dumb boss in the NBC sitcom "The Office" and has managed to take a few minutes out of his schedule for some intelligent conversation. (Editor's note: This interview was a conference call and included questions from several other media outlets.) [Read article]




showAds('bigbutton')?>







showAds('mediumbutton')?>

showAds('wildlinks')?>