Thursday, September 23, 2004


Volleyball's Fresh Faces
No. 14 UA volleyball team relies on youthful trio in wake of injuries
At the onset of the 2004 volleyball season, Arizona freshmen outside hitter Dominique Lamb, libero Krista Chin and setter Amy Dyck knew better than to expect much playing time with a deep and talented group of Wildcats returning.
But with injuries and illness plaguing veterans Kim Glass, Meghan Cumpston and Jennifer Abernathy, the team's freshman class brought new energy and health to the team, not to mention a pair of tournament championships and an 8-2 overall record so far. [Read article]



Volleyball: Cumpston, Glass back in time for Pac-10 play
Things are about to get a little more difficult for the No. 14 Arizona volleyball team (8-2) as it begins Pacific 10 Conference play - the most competitive volleyball in the nation - at Stanford today at 7 p.m.
"It's been so long since we've had everyone on (the team)," said UA head coach Dave Rubio, noting the return of outside hitters Kim Glass and Meghan Cumpston. "With everyone back after four weeks, it's looks like a completely different team." [Read article]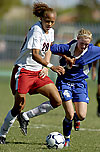 Soccer takes 6-1 record to Utah for pair
Two more wins. That's first and foremost in the minds of the players of the surprising Arizona soccer team (6-1), as it heads to Utah today for a pair of games against Brigham Young and Weber State.
But as easy as the Wildcats' first six wins may have been, the UA players know that from here on out, teams are sure to bring their A-game when they face Arizona.
"I think it's going to be our first big test besides West Virginia," said UA junior Mallory Miller of today's matchup with BYU (3-4-1), scheduled for 7 p.m. "They've always been good in the past. We have to go in there and take care of business, and keep our winning streak going forward." [Read article]



Men's basketball nabs top-notch recruit for '05
After an official visit last Friday, blue-chip small forward Marcus Williams of Seattle committed this week to play for the UA men's basketball team.
The 6-foot-7 wing player joins Corey Hall, Fendi Onobun, and Jermichael Finley in the Wildcats' 2005 recruiting class.
Williams is rated in the top 50 by most recruiting specialists, and is the top player committed to the Wildcats for the 2005-2006 season thus far. [Read article]



Women's golf falls back in pack at 'Fall Preview'
The Arizona women's golf team got through two rounds without any serious problems, but stumbled overall, finishing near the back of the pack in the Mercedes-Benz of Bend Women's Fall Preview in Bend, Ore.
The Wildcats continually dropped on the leaderboard, closing their first round in seventh place, falling to 13th after round two and finishing tied for 15th place with Vanderbilt.
Duke won the event after posting a final round of 281, the best round of any team throughout the three days. [Read article]




showAds('bigbutton')?>




showAds('mediumbutton')?>

showAds('wildlinks')?>