Thursday, December 1, 2005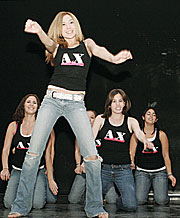 Greek board questions event's taste
The Kappa Alpha Order fraternity raised money for the Muscular Dystrophy Association last night, but the members may be facing punishment because they didn't comply with the Greek Life Philanthropy Advisory Board guidelines, an official said.
The fraternity sponsored a serenading contest to raise money for its national philanthropy, but violated two stipulations of the advisory board by advertising the event to only pledge classes and by failing to prescreen the sororities' performances, said Erin Cohen, president of Panhellenic Council. [Read article]

·
Bernsen may face impeachment
·
UA tight end caught with fake ID card
·
Quick Hits
·
Movie stars join quad rugby
·
Board of regents briefs
·
Fast Facts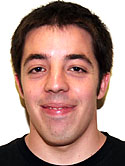 Public displays of affection. These high-profile embraces are a daily occurrence on campus, whether it's a perky couple smooching on the UA Mall, two hormonal students taking a "study break" in their cars or simply a homeless guy's solo antics in the library.
But what about gay PDA? This is about as rare a sight on campus as President Peter Likins lowering tuition.
An instructor for one of my courses claimed that this lack of intra-gender canoodling is because of society's entrenched homophobia. Even in the modern "Queer Eye" era, he imagined, two men wouldn't be able to walk around campus holding each others' hands without catching some kind of flak. [Read article]

·
This one's for the kids
·
Editorial: Let process take the reins
·
Mailbag
Latest Issue: December 1, 2005
Latest Issue: November 29, 2005
Venerable Stones play to sold out crowd in Glendale
Rolling Stones fans young and old flocked to the Glendale Arena Sunday night to catch a glimpse of the venerable rock 'n' roll band as they made a stop in the Phoenix area on their A Bigger Bang World Tour.
The concert was to promote the band's newest album, A Bigger Bang, and Glendale was the 40th stop on the tour, which started earlier this year in New York City. The band has crisscrossed the country, stopping in cities like Portland, Ore., Los Angeles, San Francisco and Boston. Even Duke University was a stop on the tour. [Read article]

require('/home/webby/html/papers/98/polls/current.php')?>

showAds('bigbutton')?>







showAds('mediumbutton')?>


showAds('wildlinks')?>