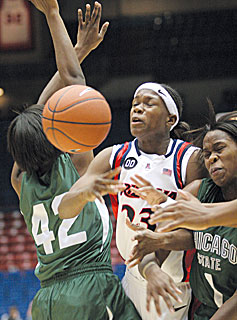 Claire C. Laurence/Arizona Daily Wildcat

Senior guard Natalie Jones is fouled while fighting for the ball during the Wildcats' 61-51 win over Chicago State University last night. Jones had 13 points and a team-high 10 rebounds on Saturday.

By Ryan Casey
Arizona Daily Wildcat
Monday, December 5, 2005
Print this


Jones' technical a turning point in heated victory over rugged Cougars

Natalie Jones wouldn't let Chicago State get away with the rough play.

Her teammates on the Arizona women's basketball team just wouldn't let the Cougars back into yesterday's game.

After taking an elbow to the face early in the second half of the 2005 Fiesta Bowl Classic championship game in McKale Center, the senior guard got a little heated, telling the Cougar defender that "she couldn't do that."

"I added the (profanity), too," she said.

In turn, a referee told Jones she couldn't do that, giving her only the second technical foul of her collegiate career.

The call got the Wildcats (4-2) fired up, as they considered it a turning point in Arizona's 61-51 victory.

"It made me mad because personally, I don't think Nat was wrong," said sophomore guard Ashley Whisonant.

Game Summary

Chicago State (5-2): 1st: 1, 2nd: 26, Final: 51
Arizona (4-2): 1st: 30, 2nd: 31, Final: 61

Statistical leaders
Points
Chicago State: Faith Buchanan, junior guard: 13 points
Arizona: Ashley Whisonant, sophomore guard: 14 points

Rebounds
Chicago State: Renada Blackburn, senior center: 10 rebounds (three offensive)
Arizona: Natalie Jones, senior guard: 10 rebounds (two offensive)

Assists
Chicago State Two tied with three assists
Arizona Whisonant: four assists

Whisonant, who had 14 points and four assists against Chicago State, was named the tournament's most valuable player.

"It's unexpected, but I'm excited," Whisonant said of the award. "I just come out and play every day. If I get rewarded, that's a good thing. If I don't, that's a good thing too, as long as we win."

The Cougars (5-2) gave Arizona (4-2) all it could handle, holding a 49-45 lead - their biggest of the game - with 6:46 to play, but the Wildcats came storming back, holding Chicago State scoreless for the next 6:22 en route to a 16-0 run and a 61-49 advantage with 35 seconds left.

Eight of the 16 points came from the foul line, something Arizona head coach Joan Bonvicini pointed to as a reason for the Wildcats' win.

"We made (free throws) down the stretch, we executed, ran our offenses well," Bonvicini said. "(Yesterday's) game ... was more like a chess match of execution, and we executed to perfection."

The game was physical from the onset, much like Arizona's 70-50 win over the Cougars in Chicago last year.

"We like playing physical games, so we definitely stepped up to the challenge," said sophomore forward Ché Oh, who finished with six points and three rebounds.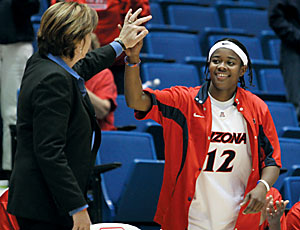 Claire C. Laurence/Arizona Daily Wildcat
Sophomore guard Ashley Whisonant high-fives coach Joan Bonvicini after she was selected as Most Valuable Player of the Fiesta Bowl Tournament. Whisonant contributed 35 points during Arizona's wins over Lehigh and Chicago State.
After being out-rebounded 21-12 in the first half, the Wildcats responded with a 22-17 advantage on the glass in the second.
"It's about heart, basically. If you want that rebound, you're going to find a way to get it," Whisonant said.
"At the end of the game, we just beared down, went and got it," Oh said. "Our defensive intensity was there, our mental focus was definitely there, and we just got after it."
Though there were a number of questionable calls in the game, most noticeably a ball-handling violation by the Cougars' Ayesha Neasley, who then hit a 3-pointer, the Wildcats had nothing bad to say about the officials.
"You can't get mad. They called it both ways," Oh said. "Even if we may not have agreed on a lot of the calls, at least they were calling it the same on the other end of the floor. That's all you can ask for."
The Wildcats came out sloppy against Lehigh (2-5) on Saturday, but strong shooting and a 42-point second half gave the women a relatively easy 78-58 win in the first round of the tournament.
Jones had 23 points and seven rebounds for Arizona, and Whisonant added 21 points and seven assists.
The Wildcats hit the road for a trip to No. 9 Maryland this weekend, in what will be a trip home for Whisonant, a native of Bowie, Md.
"We owe them one," Whisonant said of Arizona's 84-77 loss to Maryland in Tucson last season.
---
Notes:
Tulane beat Lehigh 65-63 in the consolation game earlier yesterday ... Jones and Hollingsworth were both named to the all-tournament team ... Arizona shot 38 percent from the field but 83 percent from the free-throw line ... Chicago State held an overall 38-34 advantage in rebounding.


Write a Letter to the Editor