Friday, January 13, 2006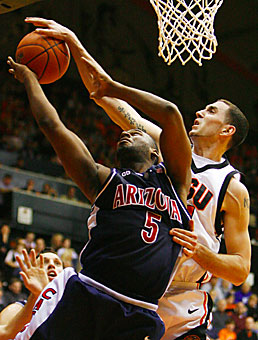 Down by 22, Cats tie but fall short late
Oregon State 75 • Arizona 65
After a terrible first half in which the No. 24 Arizona men's basketball team could not score and did not defend, the Wildcats (10-5, 3-2 Pacific 10 Conference) clawed their way back but could not finish off the comeback in a 75-65 loss.
After the Wildcats rallied from a 22-point deficit to tie the score at 63, Beavers sophomore forward Marcel Jones scored twice and fellow sophomore forward Sasa Cuic hit a jumper, giving Oregon State (9-6, 2-2) a 69-63 lead that put the Wildcats away in front of 8,258 in Corvallis, Ore., some of whom stormed the court at the buzzer. [Read article]

·
Cats drop fifth straight game
·
Former Wyoming head coach to assist at UA
·
Gymcats hope youth brings championships
·
Icecats, Billikens puck with each other
·
No. 13 Gymcats look for luck
·
Tennis duo to compete at invitational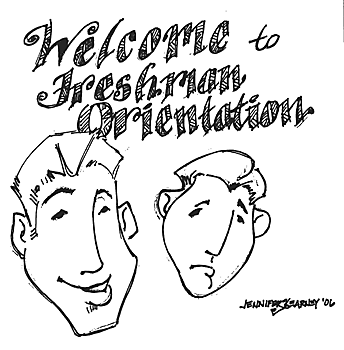 When Andrew Stevens enrolled at the UA as a mechanical engineering freshman, he didn't sign up for the usually required Calculus 1 and 2 math courses. "Passing the AP Calculus BC test in high school got me out of the boring freshman math classes in college," he said. Stevens isn't the only person taking advantage of the program.
It used to be that only the smart kids - and generally only the smart Caucasian kids - in American high schools participated in Advanced Placement programs, but a recent article in The New York Times suggests that the College Board, the organization that administers AP tests across the country, has increased its efforts in recent years to market the program to minorities and students in urban schools. [Read article]

·
Sex crime punishment unacceptable
·
PASS/FAIL: See if these ideas make the grade
Latest Issue: January 12, 2006
Latest Issue: December 6, 2005
Fire twirling, sword swallowing on club's weekly agenda
There's a little pyromaniac in all of us. Blame our caveman instincts, but our fascination with this force of nature - both destructive and life-sustaining - starts with childhood, where experiments with a Zippo lighter and your mother's industrial-sized can of hairspray gives you hours of fun and, if you're lucky, a brand-new set of eyebrows. [Read article]

require('/home/webby/html/papers/98/polls/current.php')?>

showAds('bigbutton')?>







showAds('mediumbutton')?>


showAds('wildlinks')?>