Friday, January 20, 2006

Shelton first candidate to take hotseat
Students will have the opportunity to question and get to know one of the four UA presidential candidates today.
Robert Shelton, executive vice chancellor and provost at the University of North Carolina-Chapel Hill, will meet with administration, faculty, students and community members during campus forums held throughout the day.
Students can attend today's forum with Shelton at 2:15 p.m. in the Student Union Memorial Center North Ballroom. [Read article]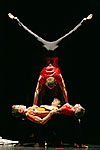 Tucson hospitable to Danish acrobatics team
For the past nine days, Tucson has played host to a troupe of traveling gymnasts in two UA performances of a longstanding Danish tradition that mixes art with exercise.
The National Danish Performance Team is composed of 28 athletes between the ages of 20 and 27, split equally between sexes, and three coaches, many of whom have been studying gymnastics for over 15 years.
Danish rhythmic gymnastics has been evolving as an art for over 80 years, when it was developed to encourage young people to keep fit and healthy. Today, over 1.3 million Danes, or approximately a fifth of the country's population, practice the sport, said team coach Morten Louring. [Read article]




UA students upset about construction delays
Faulty construction and constant delays are two of the problems plaguing a student-housing complex near campus, six months after the complex was pegged for completion.
Many UA student residents of the complex wonder why the building is taking so long, said Chase Sutherland, an engineering senior and resident of The Seasons Apartments, 811 E. Wetmore Road.
"I signed my lease because I expected the place to be done," Sutherland said. "The construction is not even close to being done and the bar isn't either." [Read article]



UA's rape-prevention programs above national norms
Study examines school sexual- assault programs
More than 90 percent of sexual assault victims knew their assailant, and new statistics show that over a five-year college tenure, there is a 20 percent chance that a woman will become the victim of rape.
A new publication in the U.S. Department of Justice's
December 2005 publication, "Sexual Assault on Campus: What Colleges and Universities are Doing About It," compares the rape occurrence, treatment and prevention program and policy statistics of almost 2,500 schools across the country. It found only eight schools had "promising practices" in addressing sexual assault on campus. [Read article]




Recent grad pays homage through art
A UA graduate paid tribute to a few of the teachers who inspired him in a new art exhibit that will be displayed through the end of the month.
Craig Wiggins, who recently graduated from the UA with a bachelor of fine arts, featured four paintings in an opening reception at the lounge last night in his exhibit titled "Friends and Faculty." All of them are portraits of influential teachers, he said. [Read article]




FastFacts
Things you've always never wanted to know
The word fiasco, meaning failure, is derived from the ancient Italian art of glass blowing. If a Venetian glass blower made a mistake while creating a fine, delicate bottle, the ruined vessel was turned into an ordinary drinking flask, which is known in Italian as a fiasco.
It is estimated that a plastic container can resist decomposition for as long as 50,000 years. [Read article]



Corrections
Clarification
Yesterday's article "Law Students Push For Elephant Haven" by Nicole Santa Cruz stated that the Reid Park Zoo is owned by the City of Tucson Parks and Recreation. The City of Tucson actually owns the park as well as the animals inside it, and the city will make the decision whether or not to move the elephants, not the zoo itself.
Corrections
In the column "Benefits of Kyl's cuts lost to students" by Tawfik Maudah, a quote was incorrectly attributed to USA Today. The quote, which referenced Sen. Kyl's vote to cut student aid funding, appeared on the Web site of Jim Pederson, Kyl's opponent in the upcoming election. [Read article]




showAds('bigbutton')?>







showAds('mediumbutton')?>

showAds('wildlinks')?>