Tuesday, September 28, 2004


Classroom no place to learn about cultural differences
Remember when you were still in high school and you never had to study and your homework could be done the night before it was due without any real consequences?
Or how, when you were packing up your belongings as you eagerly counted off the days before you left for the residence halls of the University of Arizona, everyone suggested that college was not like high school - that you actually had to study there? [Read article]



Editorial: Defending Dead Day
Killing Dead Day destroys time to study
It seems like this year is the year of the cancellations.
First, the UA faced the prospect of commencement being taken away - an action that was, thankfully, prevented from becoming a reality.
Now, we might see another student-loved event go under the axe if one of three proposals for a new finals schedule is approved.
Recently, the Undergraduate Council reviewed several possible changes to the finals schedule. [Read article]



Mailbag
Chickens are more than just nuggets
We at People for the Ethical Treatment of Animals (PETA) are pleased that our "I am not a nugget" sticker prompted sophomore Lauren Peckler to think about the cruel treatment of chickens on factory farms and in slaughterhouses in her column "PETA's passivity pays off" published September 24, 2004.
Although most people simply don't know chickens as well as dogs and cats, these birds show affection and feel happiness, loneliness, fear and pain just the same. They are intelligent and, according to Chris Evans, who studies animal behavior and communication at Macquarie University in Australia, have cognitive abilities beyond the capacity of small children. [Read article]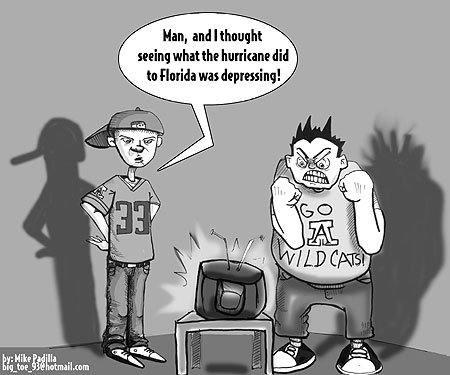 showAds('bigbutton')?>





showAds('mediumbutton')?>

showAds('wildlinks')?>