Wednesday, August 25, 2004

Mailbag
Kerry's has no one to blame but himself
With regards to the backlash to John Kerry's service in Vietnam, if there is one person who can be blamed for all of this, it is John Kerry himself.
Being the opportunist that he is, Mr. Kerry seems to have made a career out of exploiting his service in the South Asian theater since being discharged. Although I respect the service that he has given our country, his incessant efforts to wear his military service on his sleeve for political gain is getting very old. [Read article]




Issue of the Week: Advice for freshmen
In case you were wondering, the wide-eyed kids with slightly lost looks on their faces are the newest additions to the UA - this year's freshmen. As exciting as it can be to be out on your own, it can be a cruel world for a freshman at the UA, what with trying to figure out the labyrinthine layout of a dorm or deciding which entrée at Panda Express is the least likely to cause illness. We here at the Wildcat want extend a warm welcome to the class of 2008 (or in some cases 2009 or 2010). To make things easier for you rookies, we've made a list of tips gained from our own experience. [Read article]



The Way It Should Be
Party like it's 2002
The end of the spring 2003 semester brought about what many have referred to as "the day the drinking died." On May 7, the Tucson and University of Arizona Police Departments collaborated on the first large-scale alcohol bust in their recent public campaign against underage drinking.
That night, at a local party just north of Speedway Boulevard, local police surrounded the quaint college house, threatening everyone inside with certain arrest and additional charges if they tried to make a break for it. [Read article]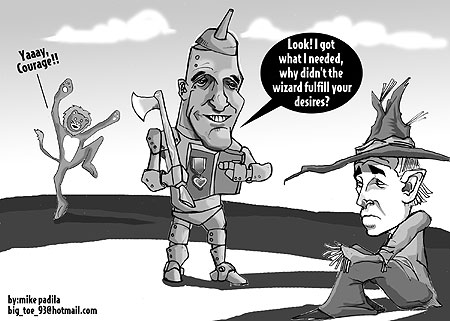 showAds('bigbutton')?>


showAds('mediumbutton')?>

showAds('wildlinks')?>