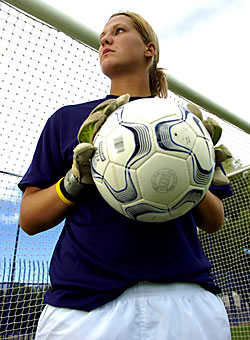 CHRIS CODUTO/Arizona Daily Wildcat

Arizona freshman goalkeeper McCall Smith owns the UA single season shutout record with seven, through the team's first 11 games. Smith's eighth shutout will tie her atop the Arizona career list.

By Brett Fera
Arizona Daily Wildcat
Wednesday, October 6, 2004
Print this


Freshman goalkeeper rewrites record books

Arizona freshman goalkeeper McCall Smith wasn't around for any of the UA soccer program's 10 losing seasons.

She wasn't yet a Wildcat, not around to experience the "success" that was the UA program's six wins of a year ago, and couldn't experience the excitement of not losing to Arizona State - the schools tied instead - for the first time ever.

Smith acknowledges that while she doesn't know what the last few loss-filled seasons must have felt like for her veteran teammates, the excitement that goes with the Wildcats' sudden ability to forget how to lose rings true with the entire team.

"It's very exciting to us," Smith said of herself and her 11 freshman counterparts on the UA team. "Even though we didn't experience those seasons, it still means just as much."

A school-record nine wins in the team's first 11 games may matter to Smith and her teammates, but the first-year collegian with more than three years of eligibility remaining shies away from talk of her own personal school record - seven shutouts, the most in UA single-season history and just two shy of the all-time career record.

Pac-10 Opener
Arizona Wildcats

vs.

Washington State Cougars
Friday
7 p.m.
---
Murphey Stadium
"Those are just numbers to me," Smith says.
To head coach Dan Tobias, it's that kind of modesty that gives the Salt Lake City native an advantage over her opponents.
"The first comment she said when everyone brought up the shutouts to her was, 'It's not me, it's the defense.'"
Looking at the numbers, that defense, primarily consisting of Smith, fellow freshmen Claire Bodiya and Kaity Heath and senior Lindsey Peeples, has been the backbone of the Wildcats' success this season, if Arizona's offense has supplied the firepower for the stat sheet.
The Wildcats allowed a respectable 33 goals in 19 games last season.
This year, just five have squeaked by Smith, who's played every minute in front of the net for Arizona, while the Wildcats have scored 24 times, one more than all of last season.
"She came here knowing she had a chance to play a lot of minutes, and she's taken advantage," Tobias said.
Tobias is certain that despite the Wildcats' ability to score in bunches this season, the defense's knack for handling the ball more efficiently in front of Smith, who's stopped 50 of 55 shots faced, doesn't diminish any of Smith's accomplishments.
"It's a good confidence-builder for her," Tobias said of the UA defenders playing in front of Smith. "It's a good confidence-builder for the team knowing someone's back there who's more than capable."
Smith wasn't always sold on being among the group to try and give life to a program that's been a Pac-10 doormat for much of its decade-long existence.
"When I found out (Tobias) was coming here, I was kind of bummed," said Smith, who's known Tobias through the Olympic Development Program since he was head coach at Washington State, of Arizona's prior reputation. "But when I came here I just loved the school and the program."
Smith also fell in love with another aspect of the UA program - the comraderie of the rest of the UA team, both the experienced and newcomers.
"Hands down, the best thing about being on this team being with the rest of the girls everyday," Smith said.
With conference play opening this weekend, and just four seniors out of Arizona's 22-woman roster finishing at the end of this season, Smith will have a chance to build on the records she - and the Wildcats as a team - will have set come the end of the team's remaining nine-game Pacific 10 conference slate.
None of that matters to Smith now, though. The next nine games take on a different meaning.
"It's a clean slate," she said. "We're just going to go through and win as many games in conference now as we have already."


Write a Letter to the Editor