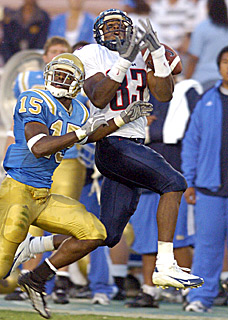 CHRIS CODUTO/Arizona Daily Wildcat

Wildcat wide receiver Mike Jefferson drops a pass during UCLA's 37-17 victory Saturday over visiting Arizona at the Rose Bowl in Pasadena, Calif. UCLA never trailed in the game, leading 23-3 at halftime.

By Brett Fera
Arizona Daily Wildcat
Monday, October 11, 2004
Print this


Safety, Bruin passing game breaks UA, 37-17

PASADENA, Calif. - The UA football team was successful in stopping Pac-10 leading rusher Maurice Drew Saturday at the Rose Bowl.

Problem was, the Wildcats ultimately may have put their focus on the wrong Drew.

"We played the run well and played the pass terrible," said UA junior defensive back Darrell Brooks after the Bruins, led by junior quarterback Drew Olson's four touchdown passes, rolled to a 37-17 victory over the Wildcats in Pasadena, Calif. "We emphasized on the run game but were lackadaisical on the pass."

Olson connected with Bruin junior tight end Marcedes Lewis six times on the day for 99 yards, including three touchdowns, all career highs for the 6-foot-6, 255-pound Lewis.

"We blew some coverage, and that's the hard part. But he's a great player," Stoops said. "I love his athletic ability at tight end, his range. He deserves a lot of credit. He kind of single-handedly got us tonight."

They had opportunities, and they converted on those and we didn't," Stoops said. "It's a pretty simple game."

UCLA (4-1, 2-0 Pacific 10 Conference) earned its fourth win in a row without needing to lean on its running game, the prize of its offensive attack. Drew entered the game as the Pac-10's top back, averaging more than 160 yards per game on the ground, but was held to just 22 on 11 carries, while counterpart Manuel White, third in the conference at 90 yards per game, gained 62 yards on 17 carries.

While Arizona was able to contain UCLA's marquee rushing duo for most of the game, it was Arizona's own three-back system that proved troublesome for the Bruins, and kept the game respectable throughout.

UA junior tailback Mike Bell picked up 134 yards on 21 carries, while junior Gilbert Harris added 74 yards on nine carries. Redshirt freshman running back Chris Henry scored the first two touchdowns of his career as well, adding 55 yards on eight carries.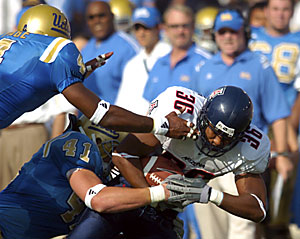 CHRIS CODUTO/Arizona Daily Wildcat
Running back Gilbert Harris (36) drags a Bruin defender upfield during Arizona's loss Saturday to UCLA. Harris totaled 74 yards on nine carries in the game.
"We knew going into this game we'd run the ball on them. They were giving up 5.5 (yards per carry) a game," Stoops said. "I like our toughness up front and the toughness in our backs."
"I was just really excited to get as many runs as I did," said Henry, who said he actually likes all three backs sharing the ball-carrying duties. "It's great because you're always fresh. You're never tired. We're all capable of producing the same amount so it's just like the same back being in there without being tired running against the same defense that is tired."
Bell said he enjoyed the new role he played on Henry's touchdowns - lead blocker.
"It's new, but I like doing it. Whatever it takes to help the team win," he said.
UCLA started off the scoring by blocking Wildcat punter Danny Baugher's punt after Arizona went three and out on its first drive of the day. The ball bounced out the back of the end zone, giving the Bruins an early 2-0 lead.
UCLA upped the score to 9-0 on a 28-yard screen pass for a touchdown from quarterback Drew Olson to fullback Michael Pitre.
Olson's counterpart, UA sophomore Kris Heavner, didn't fare as well, completing 13 of 24 passes for 93 yards and a late-game interception. Heavner didn't receive any help from his receiving corps, however, which dropped wide-open passes on more than a few occasions on the day.
"They had opportunities, and they converted on those and we didn't," Stoops said. "It's a pretty simple game."
Arizona is on the road again this week, traveling to raucus Autzen Stadium in Eugene, Ore., to face Pac-10 foe Oregon Saturday.


Write a Letter to the Editor