Arizona Daily Wildcat
Tuesday, October 12, 2004
Print this


They say a good man is hard to find. But what exactly characterizes a good catch? Is he smart, funny, sensitive, offbeat? The Wildcat is giving you the chance to decide with our first edition of Bachelor Survivor. The project began with four bachelors, who have been narrowed dow to two as determined by online poll results. These are the final bachelors, vote online this week at http://wc.arizona.edu for who you want to see voted off.

Get a Family member to HONESTLY describe your personality
---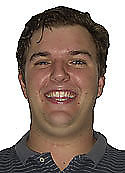 Chad Watkins
economics senior
"I'm Mikey and Chad is my brother. Although my brother is extremely weird and he likes to pick on me, I got to love him. One of the mean things he likes to do to me-and he thinks is funny but isn't-is he likes to pick me up in the air and swing me around until I cry or get really mad at him and call to Mom or Dad, 'Chad's picking on me!' And most of the time they'll come save me and sometimes they'll just let him do it. But I still love him and I always will. My brother's personality is very great. He is one of a kind. I've never seen someone act as silly or as wired as he does. He also has a very good and caring heart. He can be really mean and he likes to joke around, but if you need him to be serious or something like that he is always there for you (sometimes). He is also very affable. He also loves me very much (I think) and all of my other family members! I love my brother Chad and I always will!!"
Chad's brother, Michael, 14
---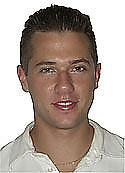 Noah Lerman-Simmes
psychology senior
"I won't lie, I don't always get along with my brother. We fight like any normal siblings do. But he always looks out for me, there hasn't been a time he wasn't there for me if I really needed him. I find it rare to find such admirable qualities that my brother embodies. He is one of the few people in my life who has never let me down and I am proud to be able to call him my brother.
Good Luck Noah!
Love, Sara"
Noah's sister, Sara Lerman-Simmes, 19
---
Next week: The Bachelor Survivor champion!


Write a Letter to the Editor