Thursday, October 14, 2004

'Madness' opens hoops season
Dunk contest, givaways highlight kickoff event
Let the madness begin - again.
After a one-year hiatus, the UA men's and women's basketball teams will kick off the 2004-05 season early Saturday morning at the strike of 12 - for Midnight Madness in McKale Center.
"(The players are) very excited. They were disappointed when we didn't have it a year ago," said Jack Murphy, video and recruiting coordinator for the men's team, of the team's first official practice of the season. "None of those guys have ever participated in something like this before. It's their first opportunity to get into McKale and play in front of a packed house." [Read article]




Volleyball: Growing up fast
Maturity trumps experience for sophomore outside hitter Cumpston
The cliché says that the older you get, the wiser you become.
The UA volleyball team's sophomore outside hitter Meghan Cumpston is out to prove that isn't always the case.
Although she lacks the experience of many of her veteran teammates, Cumpston has demonstrated that she has the power and poise to make a difference in Arizona's injury-filled and inconsistent lineup. [Read article]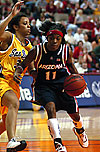 Women's Hoops Media Day: Cats look to replicate success of last season
It's still two weeks until the season-opening Red/Blue Scrimmage, but members of the UA women's basketball team are already excited to get the 2004-05 season under way.
The Wildcats opened their season unofficially yesterday with the 2004 media day and the word of the day was excitement - and why wouldn't it be, after the team captured its first Pacific 10 Conference championship a year ago and return four of five starters to this year's team. [Read article]



UA tennis' senior roomates to team up on court
While UA seniors Colin O'Grady and Paul Warkentin are roommates off the tennis court, they rarely team up in doubles action on the court. That will change Friday through Sunday when the duo plays singles and doubles at the Midland Tennis Classic in Midland, Texas.
O'Grady, who typically pairs with junior Roger Matalonga to make up the country's fifth-ranked doubles team, said Warkentin has sent him about 10 text messages in anticipation for this matchup. [Read article]




showAds('bigbutton')?>





showAds('mediumbutton')?>

showAds('wildlinks')?>