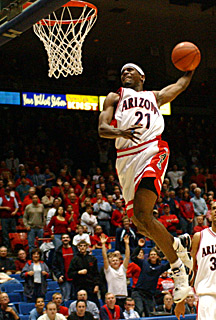 FILE PHOTO/Arizona Daily Wildcat

UA junior forward Hassan Adams will be favored to win the slam dunk contest at tomorrow night's Midnight Madness event.

By Brett Fera
Arizona Daily Wildcat
Thursday, October 14, 2004
Print this


Dunk contest, givaways highlight kickoff event

Let the madness begin - again.

After a one-year hiatus, the UA men's and women's basketball teams will kick off the 2004-05 season early Saturday morning at the strike of 12 - for Midnight Madness in McKale Center.

"(The players are) very excited. They were disappointed when we didn't have it a year ago," said Jack Murphy, video and recruiting coordinator for the men's team, of the team's first official practice of the season. "None of those guys have ever participated in something like this before. It's their first opportunity to get into McKale and play in front of a packed house."

2004 UA Basketball

Midnight Madness
Friday
10 p.m.
Preceded by UA volleyball vs. Washington State at 8 p.m.
---
Mckale Center
The event, free to both students and the general public, was discontinued last season so that the men's team could start with a fresh, productive afternoon practice, rather than tired after being up past 1 a.m. the night before.
The event begins with the UA volleyball team's 8 p.m. matchup with Washington State tomorrow, and one lucky fan will have a chance to win a car during game, said Cameron Wood, a marketing representative of the UA Athletics Department.
The night continues with interactive games between basketball players and students, as the Midnight Madness season kickoff event is set to feature both the UA men's and women's squads, led by legendary head coaches Olson and Joan Bonvicini of the women's squad.
Complete with a player autograph session, the fan-favorite slam dunk contest, a chance for a fan to win $10,000 by making a half-court shot, and the traditional first practice of the new season by the men's team, the athletic department's goal with this year's Midnight Madness event is to not only have UA students come out in full force, but to be active participants in the night's events as well.
In years past, the event has drawn the ire of Olson, who has publicly announced his displeasure with the midnight start in the past because, to him, it results in a lost chance at a productive practice on Sunday.
But Murphy said Olson had a change in heart this season, understanding that the event is a great opportunity for fans - namely students - to see the team up close if they otherwise wouldn't have the chance.
"(Olson is) really trying to promote his sport within the students now," Wood said. "It will really be interactive with the players. We'll get a good idea what they're really like."
Bonvicini said she's excited for fans to get to know her players as well.
"I like doing it because it's great for the girls and gets people to come out and see us," Bonvicini said. "We had a pretty good fan base last year, but let's make Tucson a women's basketball town."
UA junior wing Hassan Adams will have little competition at this year's slam dunk contest, Murphy said. Murphy added that he thinks the fans will still be excited to see Adams jump out of the gym.
"This year Hassan doesn't have a Will Bynum to challenge him," Murphy said, noting the former Wildcat guard who won the event in 2002 before transferring to Georgia Tech midway through the season.
Murphy said that while at times Olson has been concerned with players hurting themselves during the dunk contest - current NBA star and former Wildcat Richard Jefferson, finally healthy after injuring his back the season before, attempted to jump over a cheerleader during the 2001 contest, only to miss on his first attempt before landing the second - Olson takes it all in stride and just wants to see his players have a fun, but safe, time before practice starts.
"I think in that regard there's always a scare, but I think coach has fun with it," Murphy said.
Olson is also scheduled to address the crowd at some point during the evening.
Hosting the event will be Tucson native and rabid UA hoops fan Zachariah Selwyn, best known for being a finalist on the ESPN reality show "Dream Job."
Five UA players will participate in the game "Pipe Dream" during the night, a spoof on "Dream Job" that gives the players the chance to call action of simulated plays as if they were sportscasters.
Fans will be allowed to enter the tail end of the volleyball match at 9:30 p.m. for free, with an autograph session with the UA hoops players following the match. Parking will be available in the Cherry Garage, located at the corner of E. Enke Drive and N. Cherry Avenue.


Write a Letter to the Editor