Friday, October 15, 2004

McCain, Starky to debate at Gallagher
Senate contenders square off on student issues today
Students will have the chance to engage in national politics at a town hall debate on campus today.
Sen. John McCain (R-Ariz.) and Stuart Starky, his opponent in the upcoming election for U.S. Senate, will square off today to conquer issues that effect college students.
The debate will be in Gallagher Theater at 4 p.m and will have a town hall format similar to the presidential debate in St. Louis last week. [Read article]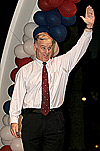 Dean: Big turnout key for Kerry
Howard Dean was the guest of honor at a rally downtown yesterday for Democrats who wanted to get fired-up about the presidential election and contribute to the campaign on a smaller scale.
About 500 people attended the rally at Armory Park, 210 S. Fifth Ave., which included local politicians, the UA Young Democrats and Sen. John Kerry supporters.
Dean, Vermont governor and former presidential candidate in the Democratic primaries, told attendees they could help John Kerry by supporting local leaders and voting. [Read article]




First grocery store opens on campus
Students and staff have a new place to dine and shop since the Highland Market, the first grocery store on campus, opened yesterday in the Highland Commons housing district.
In addition to produce and other health and beauty items, the market also includes a full sandwich deli, salad bar and espresso bar.
The construction cost about $1 million, said Brian Dolan, UA facilities project manager and supervisor of the Highland Market construction project. [Read article]



Students could have hard time finding flu shots
UA students will have a difficult time obtaining a flu shot this year, as local and national supplies are running out.
Most of the nation's remaining flu vaccine supply will be sent directly to facilities that serve children, the elderly and people with life-threatening illnesses.
Roberto Armijo, executive director of Community Information and Referral in Phoenix, and part of the Statewide Flu Hotline, said the United States received only 50 percent of the shipment it usually obtains from overseas, or about 55.4 million doses of the usual 100 million doses normally distributed each year. [Read article]




Holy month of Ramadan begins today; Islamic Center hosts services
Muslim students will be able to observe Ramadan by attending services this weekend at the Islamic Center of Tucson, 901 E. First St.
During Ramadan, the Islamic holy month, Muslims can only eat and drink before and after sunrise.
By fasting, which includes abstaining from eating, drinking, having sex and smoking during the day, Ramadan allows Muslims to be forgiven of all their sins.
Every year, more than one billion Muslims worldwide, including eight million in the United States, celebrate Ramadan. [Read article]



'Oasis' offers self-defense classes for UA women
Women can fight helpless against predators of rape and assault by empowering themselves in a Rape Aggression Defense (RAD) program at Campus Health Services.
Participants in basic self-defense classes will finish training this Sunday at the Campus Health Highland Commons building on East Lowell Street. Advanced self-defense will begin Oct. 30 for women who have completed the basic program.
Sponsored by the UA OASIS center, RAD is a comprehensive course offering realistic self-defense techniques suitable for women above the age of 14, said Tina Tarin, OASIS violence prevention specialist. [Read article]



Word Up
Quotes from around campus and around the world
"You know why the Pell Grants have gone up in their numbers? Because more people qualify for them because they don't have money."
- Sen. John Kerry, Democratic presidential candidate, during Wednesday's debate
"I want to remind people listening tonight that a plan is not a litany of complaints, and a plan is not to lay out programs that you can't pay for. ... It's an empty promise. It's called bait and switch."
- President George Bush during Wednesday's debate [Read article]




Fast facts
Things you always never wanted to know
It may take more than two days for a chick to break out of its shell.
An adult sitting in a relaxed position inhales approximately one pint of air with every breath.
In order to equal the amount of energy transmitted every day from the sun to the Earth, it would be necessary to burn 550 billion tons of coal, more than could be mined in a thousand years. [Read article]




showAds('bigbutton')?>





showAds('mediumbutton')?>

showAds('wildlinks')?>