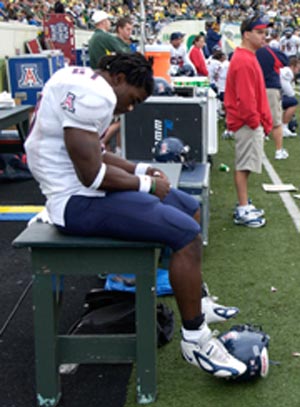 PHOTO BY CHRIS CODUTO/ARIZONA DAILY WILDCAT

Arizona's Gilbert Harris sits by himself during the waning minutes of Saturday's 28-14 loss to Oregon at Autzen Stadium in Eugene, Ore. Oregon defeated Arizona 28-14.

By Brett Fera
Arizona Daily Wildcat
Saturday, October 16, 2004


EUGENE, Ore. - UA backup quarterback Richard Kovalcheck provided the spark the Wildcats needed - putting Arizona (1-5, 0-2 Pacific 10 Conference) in the endzone twice in the game's final two minutes - but it was simple a matter of too little too late for the Wildcats Saturday, who fell 28-14 to Oregon in Eugene, Ore.

"We've had an inability to throw the football consistently all year, but I thought Richard came in and did some awful good things," said UA head coach Mike Stoops. "I thought we had some opportunities early in the game and we couldn't convert."

Kovalcheck entered the game early in the fourth quarter - with the Wildcats trailing 28-0 - after starter Kris Heavner proved ineffective through the first three frames. Kovalcheck connected on five of 10 pass attempts for 77 yards, one touchdown and one interception in his first collegiate action, all in the fourth quarter, while Heavner completed just nine of 24 passes for 79 yards and two interceptions, both by OU's Aaron Gipson.

Arizona never recovered after giving up a touchdown on the Ducks' first series of the game, a 12-play, 86 yard drive capped off by a one-yard run from tailback Terrene Whitehead. Oregon junior quarterback Kellen Clemens hit on all five passes he through on the drive, and finished the game completing 21 of 31 for 336 yards and a touchdown.

"You know you have to bring you're 'A-game,' said UA junior safety Darrell Brooks of trying to defend against Clemens. "He's a tremendous quarterback. When he's on his game, he can get the ball anywhere."
Clemens favorite target of the day, Demetrius Williams, never hit the endzone, but did manage to haul in nine catches for 153 yards. Williams caught 21 balls over his last two games after catching 12 passes against Washington State a week prior.
"Kellen's comfort zone in the pocket today and his touch on the ball was excellent," said OU coach Mike Bellotti. "He gave guys a chance to catch the ball and I thought he was very sharp today as a total package."
Arizona couldn't capitalize on a pair of redzone opportunities in the first half, failing to reach paydirt after failing to convert on a fourth and two play from the Oregon 3-yard line and after Heavner through an interception in the endzone late in the second quarter.
Kovalcheck, who completed five of 10 pass attempts for 77 yards with one touchdown and one interception in the first collegiate action of his career, didn't receive the nicest of greetings after taking the field early in the fourth quarter. The redshirt freshman entered the game with the Wildcats pinned on their own five yard line and the raucous Autzen Stadium in his ear, only to throw an interception while trying to hit wideout Ricky Williams deep on just his second pass attempt
The 6-foot-2, 211 pound Kovalcheck wouldn't stay down for long though. He rebounded to drive Arizona 49 yards on seven plays for the Wildcats' first score of the game, a two-yard touchdown run by junior back Gilbert Harris, only to follow that up with his first career touchdown pass - a 21-yard strike to tight end Brad Wood - less than a minute later after Arizona recovered an onside kick.
"I thought it was pretty cool to come in at that time of the game because that's probably the hardest its going to get," Kovalcheck said.
The catch was both Wood's first reception and first touchdown as a Wildcat.
UA redshirt freshman cornerback Wilrey Fontenot said the Wildcat secondary will deservedly take the heat for the loss, the team's fifth in a row after opening with a 21-7 victory over Northern Arizona in August.
"Defensively, this is probably the worst game we've played all season. We were in the wrong positions at the wrong times. We weren't executing our coverages," said Fontenot, who returned a fumble recovery 95 yards for a touchdown, only to have the play called back after officials said he picked up the ball while his knee was already down. "The coaches did a good job, but as the secondary we take it upon ourselves. We didn't execute this week."
Arizona returns home Saturday to face California at Arizona Stadium, part of Family Weekend festivities on the UA campus.


Write a Letter to the Editor