Monday, October 18, 2004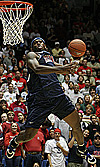 UA Hoops Midnight Madness: Cats kick off new season in style
After a year's absence, Midnight Madness returned to the UA campus Friday night as 9,500 people packed McKale Center to watch Arizona's first basketball practice of the season.
The night was a chance for those in attendance to see new players as well as participate in activities of their own. Fans were treated to an autograph session,while two students were given the opportunity to shoot free throws for a prize of $500. Other contests on the night included a 3-on-3 sorority and fraternity basketball tournament and three $10,000 half-court shots. [Read article]



Soccer sits atop Pac-10 after Bay Area split
UA defeats 2nd top-10 team in as many weeks
The No. 24 Wildcat soccer team knocked off another top-10 team this weekend and remains tied for first place in the Pacific 10 Conference after its weekend split in California's Bay Area.
California (8-3-2 overall, 1-1-1 Pac-10) handed the Wildcats (12-3, 3-1-0) a 1-0 loss, their first conference defeat of the season. After the UA failed to convert an opportunity to score early in the second half, Cal freshman Stephanie Wieger scored just minutes later from 12 yards out in the 56th minute. [Read article]




Football: Ducks crush Cats 28-14
EUGENE, Ore. - It didn't take long for the Oregon offense to break down the Arizona football team's much-improved defensive unit Saturday in Eugene, Ore., and it took even less time for the UA offense to prove it still has a long way to go.
UA backup quarterback Richard Kovalcheck provided the only spark the Wildcats would see offensively, but it turned out to be too little, too late as the Ducks shut down the visiting Wildcats, 28-14 at Autzen Stadium. [Read article]




Football Analysis: Cats can't capitalize, QB questions arise
EUGENE, Ore. - Two plays, two results, two different directions.
Oregon quarterback Kellen Clemens lined up under center early Saturday afternoon at Autzen Stadium in Eugene, Ore. The junior signal caller dropped back, rolled out right and hit his biggest target - 6-foot-4, 267-pound tight end Tim Day - in the flat. It was Oregon's first play from scrimmage, and the wide-open Day rumbled downfield for a 19-yard gain, only to see the Ducks hit paydirt 12 plays and 86 yards later. [Read article]



Volleyball falls to No. 1 Huskies
UA splits home set with UW, Wazzu
The No. 22 Arizona volleyball team dominated one match this weekend, but was dominated in another as it defeated Washington State Friday before being brought down by No. 1 Washington Saturday.
The top-ranked Huskies triumphed over the Wildcats in four games (28-30, 22-30, 30-25, 24-30) Saturday.
Arizona (11-7, 3-5 Pacific 10 Conference) out-blocked Washington 10 to 6, but the Huskies overpowered the home team in hitting percentage (.270 to .242) and service aces (9 to 6). [Read article]




Softball: Candrea, Cats sweep through fall tourney
With its season not starting until late January, the UA women's softball team played host to a six-team, 15-game exhibition tournament over the weekend at Hillenbrand Stadium and Pima Community College. The Wildcats played five games in three days as part of an early pre-season tuneup, sweeping its opponents during the tournament.
With an expected top five preseason national rank, as well as head coach Mike Candrea back from his Olympic sabbatical, there was a little extra flavor added to this year's tournament for the Wildcats. Arizona was out to seek revenge on Pima who handed them an upset loss in last year's tournament with All-American pitcher Alicia Hollowell on the mound. [Read article]



Women's golf cracks top 10, Kirkland takes 2nd
The Arizona women's golf team headed into its final stroke play event of the fall hoping for a spark plug to carry them to the spring semester.
That spark came in the likes of junior Cassandra Kirkland, who posted her best round as a Wildcat by finishing the tournament in a tie for second place.
Kirkland's second round 67 is the best score by a Wildcat since Lorena Ochoa posted a 66 in 2002.
Arizona struggled as a team, however, finishing in ninth place at the Stanford Pepsi Intercollegiate. Arizona State took the tournament the title in Palo Alto, Calif. [Read article]



Warkentin bows out early for men's tennis
For a second consecutive week the injury bug bit the UA men's tennis team. This time a strained back forced senior Paul Warkentin to drop out of the Midland Tennis Classic in Midland, Texas.
Last week junior Roger Matalonga pulled out of the first round of the Icy Hot/ITA Men's All-American Championship because of muscle cramps.
Fortunately for the Wildcats, Warkentin's withdrawal was mainly a precautionary measure and he said that he will be available next week. A back injury sidelined Warkentin for a few months last season so he did not want to take any chances in a preseason tournament. [Read article]



Swimming: Wild west water show wows crowd
While most of the campus had not yet awoken from its slumber, the UA swim and dive program was putting on a show for fans of all ages at Hillenbrand Aquatic Center.
The Wild West Water Show, an annual free event to help get people who attended interested in the sport and offer some free entertainment, was held Saturday on the UA campus.
The event had all the components of a perfect UA event: fun, free and even a bit of ASU bashing. [Read article]




showAds('bigbutton')?>





showAds('mediumbutton')?>

showAds('wildlinks')?>