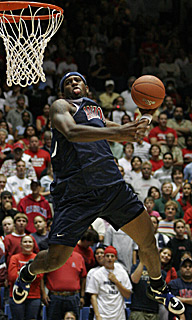 EVAN CARAVELLI/Arizona Daily Wildcat

UA junior wing Hassan Adams throws down his dunk attempt during the slam dunk contest at Friday's Midnight Madness in McKale Center. Adams took home the dunk contest title.

By Roman Veytsman
Arizona Daily Wildcat
Monday, October 18, 2004
Print this


After a year's absence, Midnight Madness returned to the UA campus Friday night as 9,500 people packed McKale Center to watch Arizona's first basketball practice of the season.

The night was a chance for those in attendance to see new players as well as participate in activities of their own. Fans were treated to an autograph session,while two students were given the opportunity to shoot free throws for a prize of $500. Other contests on the night included a 3-on-3 sorority and fraternity basketball tournament and three $10,000 half-court shots.

"This was a night to have fun and get a chance for people to see their personalities," said head coach Lute Olson, of the Arizona players.

The event was hosted by ESPN "Dream Job" finalist Zachariah Selwyn, a Tucson native.

Some of the men's and women's basketball players participated in a knock-off version of "Dream Job," which was judged by celebrity panelists including Fox Sports Net reporter Todd Walsh and former Arizona basketball player Bob Elliott. The player contestants were sophomore guard Linda Pace and junior center Shawntinice Polk of the women's team, and freshmen guards Daniel Dillon and Jawann McClellan, as well as junior forward Isaiah Fox of the men's team.

Pace won the competition, drawing the biggest roar from the crowd, but McClellan highlighted the contest by proclaiming "I look so sexy on TV."

The fun and games didn't end there as both women's and men's players were introduced to the crowd. Women's coach Joan Bonvicini thanked the crowd for their support. "We want to keep the winning streak going," she said. "We want a national title."

The men's team came out in introductions with plenty of exuberance dancing their way to the middle of the court.

"We had no idea they had their pre-game plans," Olson said. "But this night was for them. I feel good about the team chemistry."

Sophomore forward Kirk Walters showed off his breakdancing skills while junior forward Hassan Adams did his own dancing routine. Seniors Channing Frye and Salim Stoudamire made an intriguing entrance through the crowd after a skit showing them entering McKale was displayed on the Jumbotron.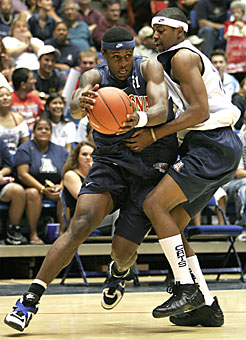 EVAN CARAVELLI/Arizona Daily Wildcat
UA junior Hassan Adams, left, drives on sophomore Mustafa Shakur during the Wildcats' first practice of the season early Saturday morning in McKale Center, part of Midnight Madness festivities.
"We knew we had some characters," Olson said.
"They surprised the coaching staff, but tomorrow we'll surprise them," he said about the team's first real practice Saturday afternoon.
The introductions were followed by a two-ball competition and then a dunk contest between McClellan and Adams. McLellan took a pass off the backboard from fellow freshman Jesus Verdejo and then jumped over Verdejo to finish the dunk. But Adams had tricks of his own, finishing a 360 dunk from the side of the basket to win the competition.
The underclassmen then scrimmaged for 20 minutes against the upperclassmen in a game that ended in a 42–42 tie.
"I thought it would be close," said Olson. "I thought they played hard. You can see there was good quickness. I thought it was appropriate that it finished in a tie. There was nobody walking out of there feeling great, but nobody walking out feeling badly either."
The upperclassmen took an early five-point lead on a Stoudamire 3-pointer, but sophomore point guard Mustafa Shakur came back with a 3 of his own. The underclassmen, led by Shakur and McClellan jumped out to a 38-29 lead later in the game. McClellan drove to the basket and finished strong a few times and was also solid on the defensive end, making two spectacular blocks on Frye and sophomore Beau Muhlbach. The upperclassmen used a 9-0 run to tie the game, and after an Adams dunk which made the score 42-40 in favor of the upperclassmen, sophomore Ivan Radenovic hit a mid-range jumper to tie the game and cap the scoring at 42-42.
Kirk Walters looked solid for the underclassmen, scoring six points and drawing praise from Olson.
"He looks like he has the extra 20 to 25 pounds on him," Olson said. "He looks a lot stronger and a lot more aggressive."
Olson said he was also pleased with Frye's performance.
"I thought Channing Frye obviously showed how much stronger and more aggressive he's gotten," he said.
"We have good quickness and good depth," Olson added. "There will be good competition at every spot."
Olson said he was excited about practice starting, adding that he expects the players to work hard.
"We'll get started on some of the things we need to get done (Saturday)," he said. "We'll get a lot of work done."


Write a Letter to the Editor