Monday, October 18, 2004


Polarization keeps voters from getting informed
In front of thousands of Democrats that had gathered to watch the final presidential debate together at Tempe Beach Park, Mark Manoil, a relatively unknown candidate for the Arizona Corporation Commission, took the stage.
Manoil was clearly qualified and knowledgeable about this complex office, but he came out talking about specific aspects of utilities regulation. About his ideas and policies. His applause was limited. [Read article]



Just say no to partisan politics
I'm an observer, not a participant. Far more comfortable being on the outside looking in, you can usually spot me at parties on the outskirts, making snide remarks to another kindred non-participating soul or to a large potted houseplant, depending on intoxication levels.
However, this being an election year, my shield of sarcasm can only hide me for so long.
From the tents that have taken up permanent residency on the UA Mall to the cheap, mass-produced buttons pledge our respective allegiance to whatever party we choose, students across campus are getting involved at an unprecedented level. [Read article]



Mailbag
Government should protect young workers
Please tell me how in this day of safety by our government, a birdseed grinder can kill a wonderful 19-year-old young man like Josh Morgan? The job Josh did is one young men are attracted to; aren't they entitled to protection from harm? Where was OSHA before this happened? Tell me that equipment like this is inspected! Why are they only on the scene after Josh was crushed to death? [Read article]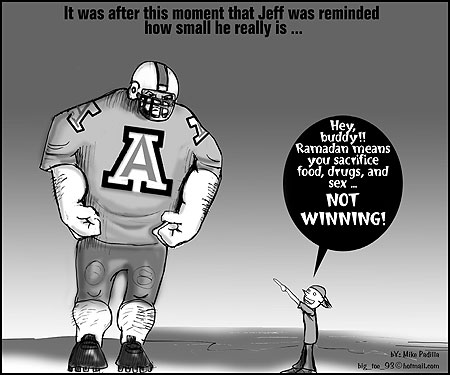 showAds('bigbutton')?>





showAds('mediumbutton')?>

showAds('wildlinks')?>