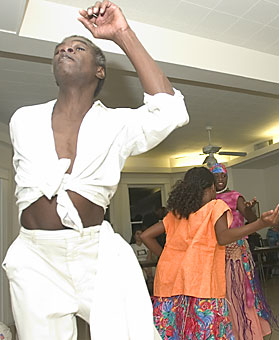 WILL SEBERGER/Arizona Daily Wildcat

Eno Washington, an Africana studies professor, dances at the Quaker Friendship House at 931 N. Fifth Ave., last Monday.

By Mitra Taj
Arizona Daily Wildcat
Monday, October 25, 2004
Print this


Eno Washington has to dance. His life may depend on it.

The UA instructor said he's been dancing since he was in the womb and said he'll keep dancing "until the cows come home."

Nothing, not AIDS or AIDS medication, can keep him from dancing.

Washington, the creator of Pan-African dance, a mix of dance forms from around the world whose roots lie in Africa, became an adjunct UA faculty member this semester, teaching "African Aesthetics: A Colloquium in Dance" in the Africana Studies department.

At a benefit Tuesday night in support of the Federation of Teachers in Haiti, Washington danced to accompanying rhythm of an African drum and the calls of the drummer.

He shook, spun, convulsed, leaped and twisted as the audience watched wide-eyed.

At one point Washington dropped down to the floor backward, sliding around the room on his head and shoulders, with his stomach pointed to the ceiling and his legs pushing him forward.

I'm just glad I can empower people through my dancing. And I'm going to keep dancing until the rooster crows. Until the cows come home
- and they ain't comin' home.
– Eno Washington, dance faculty member

And this is during a week when Washington said he has "no energy."
Not bad for an AIDS survivor of 18 years who hasn't taken AIDS medication for more than eight years.
Healing power of dance
When asked why Washington has survived 18 years of full-blown AIDS, his doctor, Dr. Lenn Ditmanson, offers what first comes to mind: "dancing."
Washington's relationship with dance has unraveled since his first movements dancing gospel and ballroom with his mother to encompass the use of dance as a political statement and as a spiritual conduit.
"Dance is language," Washington said. "And it's medicinal."
Low Down

Eno Washington will be dancing at the 3rd Annual African Students Association Banquet at Ina Gittings (Dance) Building, Room 100. The event is $8 for students and $10 for the general public. Proceeds benefit AIDS victims and orphans in Africa. For ticket info, contact amucheo@email.arizona.edu
Washington said he found cultural and spiritual experiences among black communities around the world have more in common than previously expected.
He said he saw generation after generation of blacks in the United States renew the same African dances under different names. Some black churches share practices with African ceremonies, where music and dancing is vital to worship.
Washington said he thinks Pan-African dancing is a big part of why he's a long-term AIDS survivor.
He said the dancer, drummer and spiritual energy form a trinity that cleanses participants of African ceremonies.
In high school, Washington became the principal dancer for the Portland African dance company of Ahmed Sahir, which performed for the Black Panthers and other black empowerment organizations.
Later, he danced with the National Ballet of The Gambia on a Fulbright scholarship.
Infected with HIV in 1986, Washington didn't find out he carried the virus until three years later and didn't start taking AIDS medication until 1992, when he scheduled 30 pills into his day.
Fed up with the side effects of the medication - vomiting, nausea and diarrhea that would interrupt his dancing and kept him weak and in the bathroom four hours per day - Washington said he decided on Christmas Day 1996 he would stop taking the AIDS medications he'd been taking for four years.
"I just said, 'Lord, I'm ready to go, can I just have a little more time to dance?'" Washington said. "And I just dreamed about it and prayed on it and meditated on it and then without asking anyone's permission or telling anybody, I just stopped taking everything."
Feeling better, three months later, Washington came to Tucson from Portland, Ore., to visit a friend and student of more than 20 years. He decided to stay and has been an important member of the dance and AIDS activists communities ever since.
Washington teaches Pan-African dance with the Barbea Williams Performing Company, recently performed at Tucson Meet Yourself, and frequently gives his UA students demonstrations of their reading assignments.
"It's been a great class," said Bior Keech, a business economy freshman from Sudan. "He dances and we discuss the readings and everyone participates."
Keech said while American students learn about African dance traditions, he's learning about the similarities between them and African-American dances.
Washington, a former board member of the Southern Arizona AIDS Foundation, taught classes on sex and AIDS education for years and has included the nonprofit organization in his estate plans.
Health and medicine
Washington credits Dr. Ditmanson with saving his "patootie," both for discovering and treating the Hepatitis-C Washington had been carrying for years and for supporting him in his decision to stay off AIDS medications.
Ditmanson said Washington's immune system is strong enough to keep him healthy without medication, what's called "structured treatment interruption."
"He can safely stop taking meds because his immune system is strong enough and smart enough to manage HIV without the medication," he said.
Ditmanson said Washington is an example of the many people who shouldn't be automatically forced to take pills for a lifetime.
"It's not right," Ditmanson said. "If you have to, you have to, and some people do have to. But there are definitely some people that do well without them. And he's doing well."
Ditmanson said he doesn't know of anyone who's lived with AIDS longer than Washington and said the "vast majority" of those infected in his generation have passed away.
When Washington was infected, people with HIV were expected to live about 12 years, Ditmanson said.
"I don't know how to explain it," he said. "There are so many mysteries about the virus and how humans are adapting to it that we just don't understand."
Ditmanson said long-term survivors like Washington demonstrate the need for AIDS research to shift from a focus on the infection to a focus on the immune system.
"We're still locked into models of infections, which reaches back to when we discovered bacteria," Ditmanson said.
"There needs to be a new understanding that has more to do with the mysteries of the immune system and how that stays healthy."
Survival
Ditmanson said successfully battling AIDS could go beyond science.
"I think attitude is a big part of it," Ditmanson said. "Eno is an old soul. His spirit has been on earth for many, many years. His way of dealing with people and the world is very unique."
As a long-term AIDS survivor, Washington's also a survivor of a time when AIDS came loaded with the baggage of ignorance and one of the few people personally affected by AIDS who's been able to watch it evolve from a disease who defined its victims by shame to a time when it can be discussed openly.
Washington said he got infected with HIV at a time when AIDS was branded GRID, or Gay Related Immunodeficiency Disease.
"That kept people like myself continuing high-risk lifestyles without even knowing we were at risk," said Washington, who got HIV from sharing needles when he was addicted to drugs.
Continued bouts of vomiting, nightsweats and diarrhea eventually brought Washington to see a doctor.
Washington said the doctor who diagnosed him with AIDS in 1989 asked him if he thought God was punishing him after breaking the news.
Washington said he was sure he didn't have long to live.
"You can feel the energy leaving your body," Washington said. "You know something is sucking life out of you from the inside and there's not a damn thing you can do about it."
Without hope, Washington hit the streets and starting using drugs again, the beginning of a downward spiral he said he didn't really get out of until he moved to Tucson.
Here, he said, the unconditional love of his close friends changed his perspective on life.
Washington said he doesn't feel like he's dying any more than the next guy, and death isn't as scary as the life of shame people created for AIDS survivors.
"Living with AIDS has prepared me for everything," Washington said. "People's cruelty, people won't let you in their house, who don't want to shake your hand, who don't want you to use the bathroom, who don't want you to eat out of their plate, who think you should go to church every day."
A documentary film, "Dance on the Wind," was made about Washington in 1992, focusing on his explorations of the links between African and black dances.
Washington was a doctorate student in reading, language and culture at the UA last fall, focusing on black dance as language and medicine, but struggled with the changes at the university since he got his MFA in 1983 and said he wasn't sure he would ever use a doctoral degree.
"I'm just glad I can empower people through my dancing," Washington said. "And I'm going to keep dancing until the rooster crows. Until the cows come home - and they ain't comin' home."


Write a Letter to the Editor