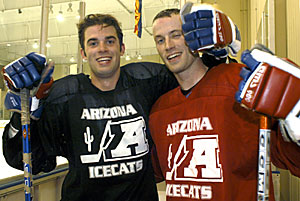 CASSANDRA TOMLIN/Arizona Daily Wildcat

Brothers Mike, left, and D.J. Pelletier, defensemen on the UA club hockey team, are expected to lead the Icecats on the ice this season, head coach Leo Golembiewski said. The Icecats open their 26th season of play tonight at 7:30. at TCC.

By Kyle Kensing
Arizona Daily Wildcat
Monday, October 25, 2004
Print this


New attitudes, outlook highlight 2004-2004 hockey campaign

The Arizona Icecats open the 2004-2005 season tonight at 7:30 at Tucson Convention Center in the first of two games against rival Arizona State.

Head coach Leo Golembiewski said this season marks a return to elite ranks for UA hockey, a year after the Icecats finished 11-14-2 and missed the playoffs for the first time ever.

"We're going back to basics," Golembiewski said. "We've got a whole new attitude. The negative attitude (of last season) is gone."

'04-'05 Season Opener
Arizona Icecats

vs.

ASU Sun Devils
Today
7:30 p.m.
KFFN 1490 AM
---
Tucson Convention Center Arena
The Icecats' motto this season, "One Team One Goal," emphasizes UA's team-first attitude, and the "new" logo, originally designed by Golembiewski 26 years ago, is symbolic of the program's past success, he said.
Leading the new-look Icecats on defense are junior Mike Pelletier and senior Keith Mitchell.
"(Mitchell) is an intimidating player," Golembiewski said. "He's the kind of guy who can knock you into next Thursday."
Pelletier and his brother D.J. meanwhile will serve as two of the team's on-ice leaders.
"Mike Pelletier is probably the best offensive defenseman in the history of our program," Golembiewski said. "He's a take-charge guy, while D.J.'s a little older and plays a conservative game."
"I think they've evolved into the kind of people that we need to make the program better," Golembiewski added. "They compliment the philosophy of what we're trying to do with this team."
A trio of juniors, left wing Jerald Zivic, right wing Don Holtz, and center Cole Dunlop, leads the high-octane Icecat offense that scored 81 goals last season.
Golembiewski said a solid recruiting class joins the corps of returning players, including left wing Mark Perzi and right wing Craig Irwin.
The team has plenty of internal competition for playing time, something Golembiewski feels will help its performance, and several players practiced in a preseason camp.
"They went through the entire gamut of hockey preparedness," Golembiewski said.
Tonight, UA will learn if the pieces for a successful season are yet in place against a strong ASU squad. The Icecats lost last season's series with ASU, 3-4-1, including a pair of losses on the season's final weekend of play that sent the Sun Devils to the American Collegiate Hockey Association's national tournament while keeping Arizona at home for the first time.
Head coach Mike Deangelis' Sun Devils enter tonight's game 2-0 after winning a pair against Division II Robert Morris last week.


Write a Letter to the Editor