Monday, November 1, 2004


Filling the post-election void
The day has finally come! Finally, after months and months of continuous campaigning and asinine news speculation, Election Day is finally upon us. And thank God it's finally here!
Honestly, I'm not sure how much longer any of us could last in this cultural landscape. Today, even the most fervent of political junkies among us (myself included) have grown incredibly weary of the nonstop spin, slogans and cult-like chants of "flip-flop." We're willing to see this thing through to the bitter end, but at some point we all need to get back to the rest of our lives. [Read article]



On the Edge
The best in last week's editorials from college campuses around the nation
Students will make the difference Nov. 2
Harvard University has released another poll that, this time, monitors what direction voting college students are leaning toward, if they are to vote at all.
The survey reached 210 four-year colleges and universities nationwide, polling approximately 1,200 students. Its result? College students are more likely to vote for Sen. John Kerry. [Read article]



Mailbag
Tensions should be resolved by pieing
Apparently, my last letter to the editor of this newspaper ("Applause for Al Pieda") regarding our new national heroes Phillip Edgar Smith and Zachary Wolfe has exasperated professor Marc Berg ("Coulter pie assault was not a significant event") enough to make him question my integrity. In his aforementioned diatribe, he states, "I was hoping to discover the satire in his letter, but sadly it was missing." [Read article]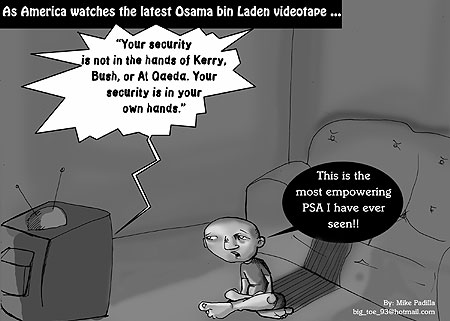 showAds('bigbutton')?>






showAds('mediumbutton')?>

showAds('wildlinks')?>