Tuesday, November 9, 2004

Tucsonans walk to fund search for ALS cure
A man who worked at the UA for 17 years and was forced to retire after he was diagnosed with a fatal disease is encouraging students and staff to participate in a walk to raise money for research for Lou Gehrig's disease.
Mike Wetzel, 45, managed the UA catering department and campus convenience stores before retiring in September 2003 after being diagnosed with Amyotrophic Lateral Sclerosis, more commonly known as Lou Gehrig's disease. [Read article]



Going home, with wallet intact
Students can use Web site to go home without going for broke
Because of a Florida State University student's entrepreneurial brainchild, UA students can avoid paying the high costs of shuttle or bus rides home by networking with other students traveling to the same destinations.
Homeboundnetwork.com is a free online service that matches students who need rides with those who are already driving to the same town. [Read article]




Women's hoops head coach to speak on UA student athletes
UA women's basketball head coach Joan Bonvicini will speak tomorrow about the importance of leadership and teamwork on student athletic teams as a part of the university's weekly Faculty Fellows speaker series.
Bonvicini's speech, titled "Success with Student Athletes," will detail some of the lessons she has learned in her 14 seasons with the women's basketball program. She said the talk should appeal to everyone, not just student athletes or people who work with them. [Read article]



Future unclear for newly passed immigration proposition
A week after voters approved Proposition 200 by a double-digit margin, it is uncertain how or even if the new law will be implemented.
Proposition 200, called the Protect Arizona Now initiative, seeks to cut off public benefits to illegal immigrants. The proposition would require valid identification of citizenship when voting and seeking non-emergency welfare benefits, including food stamps and housing assistance. [Read article]




Prop. 102 supporters will try again next year
Supporters of a failed proposition that would have allowed universities to accept stock in private companies said they would try again next year.
Proposition 102 would have amended the state constitution to allow the UA and other state universities to become a shareholder in private companies started by professors who want to license their inventions.
The proposition was defeated by a narrow margin last Tuesday, 52 to 48 percent. It passed 53 to 47 percent in Pima County. [Read article]



Bachelor Survivor
They say a good man is hard to find. But what exactly characterizes a good catch? Is he smart, funny, sensitive, off-beat? The Wildcat is going to give you the chance to decide with our first edition of Bachelor Survivor. One of our four eligibles will be voted off every week, with you deciding their fate by voting online at http://www.wildcat.arizona.edu. In addition, our surviving bachelors will have to accomplish a series of tasks to prove their worth. [Read article]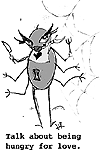 Fast facts
Things you always never wanted to know
A 10-gallon hat holds less than a gallon.
There are two kinds of tons, a regular ton (2,000 pounds) and a long ton (2,240 pounds). There are also two kinds of pounds, an apothecary pound (12 ounces) and a troy pound (16 ounces).
Earthworms clear and aerate half a pound of soil in a day. There are, on average, 3 million worms per acre of fertile soil. [Read article]




showAds('bigbutton')?>






showAds('mediumbutton')?>

showAds('wildlinks')?>