Tuesday, November 9, 2004


Soccer shipped East for NCAAs
Cats, Colgate to face off in Connecticut
The No. 13 UA soccer team enters NCAA tournament play for the first time in program history Friday when the Wildcats face Colgate in opening round action in Storrs, Conn.
The winner will face Harvard or host Connecticut, who also square off Friday, in Sunday's second round.
The Wildcats' (15-5, 6-3 Pacific 10 Conference) hopes for Murphey Stadium to receive a bid to be one of six first round host sites - after Arizona clinched a share of the Pac-10 title with a 2-0 win over Oregon Sunday - ultimately fell short. [Read article]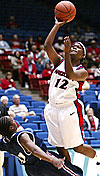 Women's Hoops: Wildcats run over Baden, 77-45
UA closes exhibition slate with blowout win
Attention turns to the regular season for the UA women's basketball team, which closed out its exhibition schedule with a 77-45 rout of Baden Sports last night in McKale Center.
Baden kept the score close early, trailing by as few as five points in the game's first 10 minutes.
UA senior guard Dee Dee Wheeler assisted freshman backcourt mate Ashley Whisonant with a behind-the-back pass midway through the half, before Baden's Alicia Heathcote answered with a 3-pointer. [Read article]




Freshman CB Fontenot earns Pac-10 honor
For the second time this season, a UA freshman cornerback picked up the Pac-10's weekly award as the conference's top defensive player.
Wilrey Fontenot was named the Pacific 10 Conference's defensive player of the week yesterday for his effort in the Wildcats' 23-13 win over Washington on Saturday.
"I was surprised," said Fontenot. "I thought I had and an OK game, but I think I can play better than I played last week." [Read article]



UA football roundup
Same Seattle mistakes won't cut it in SoCal
Even after earning his first Pacific 10 Conference win as a head coach, UA football head coach Mike Stoops recognized his team's deficiencies, noting that the Wildcats are still making big mistakes that could hurt their ability to win, especially against this week's opponent, top-ranked Southern California.
"We turned the ball over three times Saturday and almost prohibited us from winning," said Stoops. "Probably against a better football team, we're not good enough to overcome those types of errors." [Read article]



Hoops Roundup
Men 10th, women 24th in early poll
The Arizona men's basketball team will begin the 2004-05 season with the nation's No. 10 ranking, The Associated Press announced yesterday.
The Wildcats were the highest ranked Pacific 10 Conference team with Washington being the only other squad earning a spot in the preseason Top-25, falling in at No 22.
This was the 16th time in the last 18 years Arizona has garnered an AP national ranking. The Wildcats return 10 players from last year's team who finished 20-10 and lost in the first round of the NCAA Tournament. [Read article]




showAds('bigbutton')?>






showAds('mediumbutton')?>

showAds('wildlinks')?>