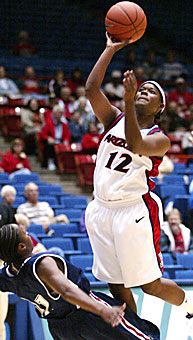 SAUL LOEB/Arizona Daily Wildcat

UA freshman guard Ashley Whisonant takes a shot during the Wildcats' 32-point exhibition victory last night in McKale Center. Whisonant dished out a game-high six assists.

By Kyle Kensing
Arizona Daily Wildcat
Tuesday, November 9, 2004
Print this


UA closes exhibition slate with blowout win

Attention turns to the regular season for the UA women's basketball team, which closed out its exhibition schedule with a 77-45 rout of Baden Sports last night in McKale Center.

Baden kept the score close early, trailing by as few as five points in the game's first 10 minutes.

UA senior guard Dee Dee Wheeler assisted freshman backcourt mate Ashley Whisonant with a behind-the-back pass midway through the half, before Baden's Alicia Heathcote answered with a 3-pointer.

Women's hoops' season opener
Arizona Wildcats

vs.

St. Mary's Gaels
Friday, 7 p.m.
McKale Center
Heathcote's triple cut the UA lead to 12 at 27-15, but it was the last time Baden would be within striking distance.
A stifling UA pressure defense forced 18 of Baden's 29 turnovers in the first half and turned those miscues into fast-break points.
UA went on a 14-3 run to close out the first.
The Wildcats kept the run alive in the second, scoring the half's first 10 points.
Baden went on a run of its own later, pulling within 20.
UA finally closed out the night outscoring Baden 15-2.
Arizona head coach Joan Bonvicini said despite the lopsided score, the team has plenty of problems to iron out before Friday's opener against Saint Mary's College in the Women's National Invitational Tournament.
"I think we can do a much better job defensively, a much better job executing our offense, and I think definitely we can rebound better than we did," she said.
UA narrowly out-rebounded Baden 38-34 in a foul-laden affair.
"We've got to be smarter with fouls - we can't put them on the line as much as we did," Bonvicini said.
The Wildcats committed 27 fouls and gave up 22 points at the free throw line.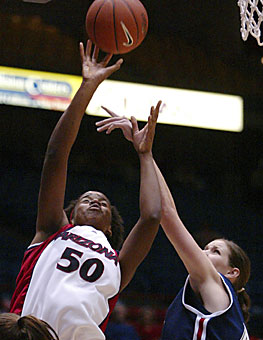 SAUL LOEB/Arizona Daily Wildcat
Arizona junior forward Shannon Hobson attempts a layup during the Wildcats' 77-45 victory over Baden Sports in the UA team's final exhibition game of the season in McKale Center.
Junior All-America center Shawntinice Polk scored 13 points and pulled down 11 rebounds despite spending much of the game on the bench in foul trouble.
"You've got to just go out and play hard despite the fouls," Polk said.
Bonvicini said two forwards, freshman Che Oh and sophomore Shannon Hobson, stepped up while Polk was on the bench.
Wheeler also spent much of the game in foul trouble, but still finished with 10 points, three assists and two steals.
Wheeler, who missed practice week due to a case of strep throat, said UA can execute more efficiently.
"We need to be consistent," she said. "We've got to get accurate."
Arizona's foul trouble led to a variety of lineups, which translated into points for 11 of the squad's 12 players.
Freshmen Whisonant and Jessica Arnold joined Polk and Wheeler in double-figures. They scored 11 and 12 points, respectively.
Bonvicini praised Whisonant, who was facing competition for the first time this season after missing last week's exhibition game with a concussion.
"Ashley has a great feel for the game. She set up teammates for scores well," she said.
Whisonant had a game-high six assists.
"I was excited playing for the first time," she said. "I was very nervous. I thought we played well, we had great team unity, great passing. I was really impressed."
The team will take today off before resuming practice tomorrow in preparation for its opener Friday. Tip-off is at 7 p.m. at the McKale Center.
Polk said it is vital that UA be ready by then.
"St. Mary's will be out for blood. No one wants to go out in the first round," she said.


Write a Letter to the Editor