Monday, November 15, 2004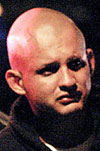 Alleged UA-area rapist apprehended
A 20-year-old man was arrested Thursday in connection with several burglaries and sexual assaults in the university area.
Israel Andrew Rivera was arrested Thursday after running from a taxicab that he was riding in had been stopped by police. Police said they began following Rivera after they received an investigative lead. Rivera was captured after a short pursuit on foot.
He was charged with four counts of sexual assault, aggravated assault with a deadly weapon, four counts of kidnapping, two counts of first-degree burglary and three counts of second-degree burglary. [Read article]




Disappointing sales plunge UApresents deeper in debt
For the last two years, UApresents has struggled with a growing deficit that has caused the organization to cut back expenses in order to stay in business. Two weeks ago, unexpectedly low ticket sales for the Broadway road show "Hairspray" pushed the organization further into debt, said Saundra Taylor, UA vice president of Campus Life who oversees UApresents.
The growing deficit has become the organization's primary concern, resulting in employee cutbacks and fewer programs for next year's season, Taylor said. [Read article]




Rice researchers converge on campus
Rice will be the main course at an international meeting near campus today.
More than 240 rice researchers from around the world will gather at the Marriott University Park Hotel today to kick off a three-day conference on altering rice genes to create better rice.
The second annual Symposium on Rice Functional Genomics will bring together premier rice researchers to present the latest research results on the genome sequence of rice and explore how to find the purpose of each of the 50,000 rice genes. [Read article]




Students fight hunger with humor
Students from the Hillel Foundation and campus comedy groups are fighting hunger in a variety of ways for National Hunger Awareness Week, which starts today.
According to the National Student Campaign Against Hunger and Homelessness Web site, 841 million people suffer from hunger, malnutrition and famine across the world, and a series of events, organized and arranged by UA students, will be held this week to address the problem. [Read article]



NIH grant would let UA's BIO5 Institute open screening center
The UA is hoping to be part of an exclusive group of universities by developing new medical drugs using technology not readily available in the university setting.
The UA's BIO5 Institute and High Throughput Genomics, a private Tucson company, hope to receive a grant that would give them access to faster technology to test potential medical drugs against diseases and cancer.
The BIO5 Institute, formerly called the Institute for Biomedical Science and Biotechnology, combines medicine, pharmacology, basic science, agriculture and engineering in biological research to tackle problems such as disease, hunger and maintaining livable environments, according to the BIO5 Web site. [Read article]




Fast facts
Things you always never wanted to know
"Kaddara," an opera written by Hakon Borrensen and produced in Copenhagen, Denmark, in 1921, is the only opera ever written about an Eskimo.
Washington is the only U.S. state named after a president.
"The Discus Thrower" by Myron, one of the most famous of all Greek statues, is not Greek at all. The statue as we know it today is a restoration assembled in the 19th century from pieces of a Roman copy of the Greek original. [Read article]




showAds('bigbutton')?>






showAds('mediumbutton')?>

showAds('wildlinks')?>