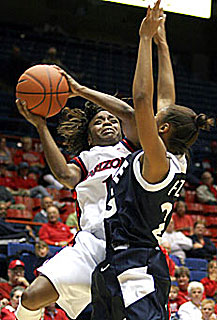 CLAIRE C. LAURENCE/Arizona Daily Wildcat

Senior guard Dee-Dee Wheeler takes it to the hoop over a Rice defender during UA's 68-43 victory in the second round of the Preseason WNIT. Wheeler and the Wildcats will advance to the semifinals Wednesday night where they will take on Ohio State.

By Lindsey Frazier
Arizona Daily Wildcat
Monday, November 15, 2004
Print this


The No. 24 Arizona women's basketball team extended its home win streak to 29 yesterday afternoon in McKale Center, topping Rice 68-43 in the second round of the sportsview.tv preseason WNIT.

The Wildcats improved to 2-0 on the season and punched their ticket to Columbus, Ohio, as they take on Ohio State in the preseason Women's National Invitational Tournament semifinals.

Arizona shot 39 percent overall from the field while holding Rice to 19 percent shooting. The Wildcats' 61 rebounds - tied for the eighth-best mark in team history - topped the Owls by 20.

"The thing I was impressed with tonight was our defense and I thought our rebounding was very good," said UA head coach Joan Bonvicini. "Those are two things that we really wanted to focus on to beat Rice."

The Wildcats stifled the Owls offense as the home team kept Rice scoreless for the first 4:22 of the game, taking an early 9-0 lead.

"We had to come out and establish our home court," said senior point guard Dee-Dee Wheeler, who accumulated 14 points, eight rebounds and three assists on the game. "(We had to) go out and make teams adjust to us instead of always worrying about adjusting to the next team."

Rice narrowed the lead to seven twice at scores of 13-6 and 15-8 before the Wildcats went on an 18-0 scoring drive over nine minutes, improving to 33-8. During the run, junior center Shawntice Polk contributed six points, one steal and three rebounds.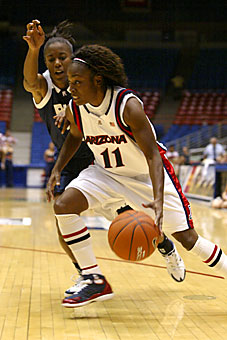 KEVIN B. KLAUS/Arizona Daily Wildcat
UA junior point guard Dee-Dee Wheeler drives the lane during the Wildcats' 25-point second-round victory over Rice in preaseason WNIT in McKale Center. With the win, the Wildcats advance to the semifinals against Ohio State Tuesday in Columbus, Ohio.
"That's the kind of team we are - we like to jump out in the beginning. That's when we're our best," said Polk, who recorded her second double-double in as many games with 18 points and 16 rebounds. "(We) jumped out to a real nice start. We kind of fell off coming into half and then we picked it back up in the second half."
Arizona's first 3-point shot came from the hands of freshman forward Chari Smith with 2:53 remaining in the half.
Arizona headed into halftime leading 42-20.
Freshman guard and Tucson native Jessica Arnold played 27 minutes, recording eight points and three rebounds, while sophomore Shannon Hobson tallied six points, six rebounds and three blocks. Junior guard Natalie Jones just missed a double-double as she contributed nine points and 10 rebounds.
After a perfect season start, the Wildcats hope to have established enough confidence and momentum to carry them through the remainder of the tournament.
"I'm really impressed," Wheeler said of Arizona's performance so far. "I'm a senior, and we never played in the preseason NIT or the postseason NIT for that matter. It's really good to win games early on. We have a lot to work on, so it's really impressive that we're winning games by this much of a margin."
Semifinal action begins Wednesday at 7 p.m. as the Wildcats trek to Columbus, Ohio, to take on the Buckeyes. Ohio State, tied for 10th in the preseason Associated Press poll, defeated Saint Joseph's 76-29 yesterday.
Cats cruise past St. Mary's in Friday's season opener
Youth ruled Friday night for the UA women's basketball team, which defeated St. Mary's College 87-72 in its season opener.
Hobson and Arnold stole the show in the first round of the Women's NIT, and were two of four Wildcats to score in double figures.
Hobson scored 21 points and hauled down seven rebounds, while Arnold scored 17 in her regular season debut, eight of them in a 22-second stretch in the first half.
Arnold sank five of UA's six 3-pointers on the night, all in the first half. Two came with seven minutes remaining.
With Arizona up 34-19, Hobson rebounded a Polk miss from the foul line and found an open Arnold for the three.
Moments later, Wheeler found Arnold for another triple off an SMC turnover.
Arnold capped the run with a lay-in off the stolen inbounds pass, and Arizona was ahead 42-19. The Wildcats never looked back, with the lead at one point ballooning to as much as 33.
"We just wanted to come out hard with intensity and play Arizona basketball," Hobson said.
She added Arizona was able to play its high-tempo style by forcing turnovers and turning them into easy points.
Bonvicini said she was pleased with Arnold and Hobson's respective performances.
"Jessica just got into a rhythm and broke the game open," she said. "Shannon had her best game as a Wildcat."
Returning All-Pac-10 selections Wheeler and Polk were their reliable selves, each scoring in double figures.
Wheeler finished with 10 points and four rebounds. Among her game-high seven assists was a pass to Hobson in the second half from a seated position following a scrum for a loose ball.
Polk ended the night with 17 points, 12 rebounds and three blocked shots.
-Kyle Kensing


Write a Letter to the Editor