Wednesday, November 17, 2004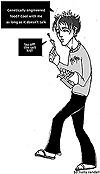 Issue of the Week: Modification of our food
The three-day international conference on the genetic modification of rice concludes today. Researchers from around the world came to Tucson in order to discuss and share research on the state of global food and population concerns. However, does genetically engineered food hold the key to solving problems of global starvation? How far should we take genetic engineering?
Precautions needed despite benefits [Read article]



Peterson trial highlights Bush's own motives
Scott Peterson received practically the worst news of his life last week, but now women's rights are in jeopardy.
Last spring, President Bush signed the Unborn Victims of Violence Act, aka the Laci and Connor Act, that deems it a crime to injure an unborn fetus. Saddened by this legislation that redefined "personhood" to mean anything after conception, pro-choice activists took a hit in their struggle to grant women the right to choose in all situations. [Read article]



Mailbag
Work on Alum. Plaza must be recognized
I received a copy of the Nov. 1 issue of the Arizona Daily Wildcat in the mail because while I live in Illinois, I am an alumna of the UA and still have friends in Tucson.
I was glad to read in the article that the dedication of the Alumni Plaza and the Wildcat family sculpture went so well, but I was distressed not to see even one mention of the Desert Crucible Foundry, located in Tucson, that cast the artist's wax sculpture into bronze. Tom and John Barringer, owners of the Crucible, are Tucson natives and graduates of the university. They both worked very hard to bring this idea to fruition. Did you know that the head of the male wildcat alone weighs 97 pounds? [Read article]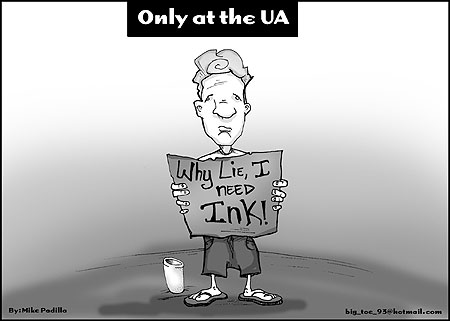 showAds('bigbutton')?>






showAds('mediumbutton')?>

showAds('wildlinks')?>