Arizona Daily Wildcat
Thursday, November 18, 2004
Print this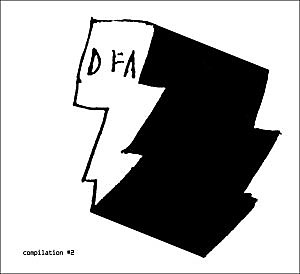 Various Artists - DFA Compilation #2
8 out of 10
Get on the dance floor with DFA comp
So apparently James Murphy and Tim Goldsworthy, the production team also known as DFA, want you to dance. The crew partially responsible for The Rapture's success has released the second part of a projected trilogy of compilation albums chronicling the high points of their label's output. Though not every song on the mammoth three-disc DFA Compilation #2 is an out-and-out dance song, there are enough beats to make the Neptunes blush.
Disc one begins in typical DFA fashion with Black Leotard Front's 15-minute psych-dance opus "Casual Friday." The track embodies everything for which the record label has become famous: tight, infectious beats, sexuality that is alternately cold and playful, and dreaminess resulting in dense atmospheric backgrounds and lengthy run times. The song's droning bass provides a pivot-point for shifting, glacial synths and elliptical lyrics sung in the voice of an exhibitionist cubical slave.
The next song, DFA's remix of J.O.Y.'s "Sunplus," is a shock after the workout of "Casual Friday." "Sunplus" seems to revel in never quite getting off the ground. The vocals are sort of half-sung over scratchy, half-played guitars and a beat so sparse as to be almost invisible. Eventually the song fills out as a repetitive bass figure and heavier beats emerge, but it never quite comes together. This is a marked change from the meticulous craftsmanship that goes into most of the compilation's other tracks, and it kind of works.
Every other track of the first two discs falls somewhere between "Casual Friday" and "Sunplus." The Rapture's U.K.-only B-side "Alabama Sunshine" makes a welcome appearance and Delia Gonzalez and Gavin Russom dabble with Terry Riley-style minimalism on "El Monte." LCD Soundsystem's fabulous "Beat Connection" and "Yeah" (remixed several times) show up. It's incredible that the compilation can maintain its cohesiveness over the course of two discs. Sometimes it can become too much, as over three hours of thumping beats is enough to make most people reach for their dad's James Taylor LPs.
Luckily they pay off in the end. The third disc is meant to be played straight through. Murphy and Goldsworthy pretty much designed it as a DJ set. The pair takes tracks from the first two discs and blend each track into the next, fading up bits of a Juan McLean song here and touches of a Pixeltan song there, showing how the cohesiveness of the compilation is the product of the both vision and production skills.
The central issue of any one-label compilation is whether or not it gives an accurate picture of the label's "sound," and I think it would be hard for anyone to deny that DFA Compilation #2 does exactly that.
- Mark Sussman
Everclear - Ten Years Gone: The Best of Everclear, 1994-2004 Capitol
6 out of 10
Everclear best of rather thin
Ten bucks to the first person who can tell me the number of times Art Alexakis says "Yeah" on this album.
With 21 tracks, compiled from the albums Everclear has put out over a 10-year period - yeah, I'm shocked it's been 10 years too - The Best of Everclear has its perks, but feels a bit incomplete given that some really great songs are missing. Case in point: "You Make Me Feel Like A Whore," which always made my day, as well as "One Hit Wonder" and "Heartspark Dollarsign." Bastards! But no one can deny that, after 10 years, Everclear is still around and continues to maintain a very loyal fan base. It all started with "Santa Monica," which Alexakis said is still the most requested Everclear song. All the other songs in between, include some hits ("Wonderful" and "I Will Buy You a New Life") and some crapshoots, like "AM Radio," which contains a shoddily misused sample of Jean Knight's "Mr. Big Stuff." As a mama's boy who grew up without a father, Alexakis loves to sing about his abandonment issues, his rebellious years as a druggie and ex-con, and sentimentally enough, his daughter. And Everclear does it all over some pretty pop-friendly rock beats.
The album is also not free of cover songs (Van Morrison's "Brown Eyed Girl" and Thin Lizzy's "The Boys are Back in Town") and ends with "Rock Star," an homage to the rock star wannabes Alexakis detests. Given that he doesn't have much range as a vocalist, Alexakis' voice does get a bit annoying after 21 songs. But that undeniable Everclear sound makes up that. Plus, I'll never get tired of "Local God," which was a big hit in Australia after appearing on Baz Luhrmann's "Romeo + Juliet" soundtrack.
All in all, The Best of Everclear isn't necessarily just an album for the fans. Because true fans already own all their other albums.
- Kylee Dawson


Write a Letter to the Editor