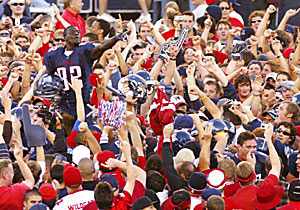 KEVIN B. KLAUS/Arizona Daily Wildcat

UA junior wide receiver Biren Ealy (82) and teammates celebrate amidst a crowd of fans who rushed the Arizona Stadium field following the Wildcat football team's 34-27 victory over Arizona State Friday afternoon. The win was Arizona's first over the Sun Devils since 2001.

By Charles Renning
Arizona Daily Wildcat
Monday, November 29, 2004
Print this


Wildcats close out Stoops' first season with upset win over Devils in annual desert duel

With a 3-8 record, the Arizona football team treated its season-ending game with in-state rival Arizona State as its bowl game.

But when the Wildcats pulled off the 34-27 upset win over the No. 18 Sun Devils (8-3) Friday at Arizona Stadium, the Arizona fans treated it the same, spilling onto the field and celebrating with other Wildcat fans, players and coaches.

"There's no other feeling than to go out on senior day and beat our cross-town rival who were heavy favorites," said senior receiver Ricky Williams amongst a crowd of red and blue clad Wildcat fans on the Arizona Stadium field following the win. "We had to hear all week how they were going to come down here and beat us and beat us by a great amount of points. We all came together and made plays. We were challenged all week by our coaches to make plays and that's what we did."

The Wildcats scored a season-high 34 points and forced another season-high five turnovers on the way to winning just their second Pacific 10 Conference home game in 19 contests.

"The whole group played hard," said Arizona defensive coordinator Mark Stoops. "These seniors deserved it and our program deserved it. This is a landmark win, but we've got a long, long way to go."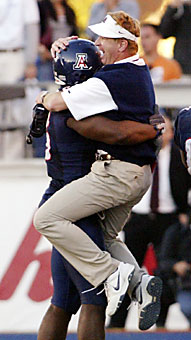 KEVIN KLAUS/ARIZONA DAILY WILDCAT
UA football head coach Mike Stoops jumps into the arms of senior defensive end Marcus Smith after the Wildcats' 34-27 win over ASU Friday.
Head coach Mike Stoops was doused with water following the win, and fans surrounded the first-year coach on the field chanting his name.
With about a dozen fans sitting on the goal post, Stoops and the team accepted the Territorial Cup, the oldest rivalry trophy in college football, for the win over the Sun Devils.
Stoops thanked his coaches, team and the UA fans while on the podium at midfield.
This was the fifth time in the last 22 years an underdog UA team has knocked off a nationally ranked ASU squad.
"They kind of underestimated us, thinking we were a team going downhill," said junior running back Mike Bell, who ended the game with 139 yards rushing. "We always kept fighting. This is our bowl game. It was great. We won at our home for the seniors, for coach Stoops and for all the stuff that has happened to us."
Redshirt freshman quarterback Richard Kovalcheck was awarded the game's MVP trophy for his 17-for-31, 239-yard, three-touchdown passing performance.
"There were open receivers and they made plays," he said. "We went downfield a little more, put everything together and guys started making plays. Today we brought it all together."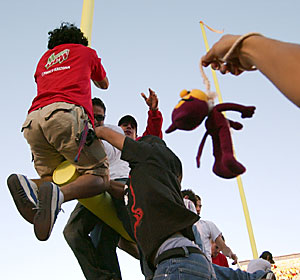 DAVID HARDEN/Arizona Daily Wildcat
A UA fan holds up a noosed Sun Devil doll as others try to bring down the goal post after rushing the field after the UA's 34-27 upset over ASU Friday.
The Wildcats were able to capitalize on five ASU turnovers and one blocked field goal that led to 31 points.
"It was a great football game, the way it ended," Mike Stoops said. "It will give us a lot of momentum going into the offseason."
ASU drove inside the Wildcats' 25-yard line with less than two minutes to go, trailing by just one score.
Backup quarterback Sam Keller led the Sun Devils downfield, replacing the Pac-10's career passing touchdowns leader, Andrew Walter, who separated his shoulder midway through the fourth period.
ASU faced fourth-and-10 from the UA 23 with 1:20 to go when receiver Sun Devils Matt Miller dropped a first-down pass from Keller to seal the Arizona victory.
"We didn't have a lot of good things happen to us throughout the course of the year, but we had a lot of good things happen to us today," said the first-year coach after his first taste of the UA-ASU rivalry. "Maybe the gods do even things out as the year go out. We got some good breaks and that always helps in close games. We knew we matched up well with this team and had a lot of confidence going into this game, regardless of records."
Besides the win over ASU, the Wildcats carried a lot of confidence out of the game, vowing to improve over the offseason and using this game as momentum to taking the program to another level.
After receiving the MVP trophy on a stage at midfield, talking to the fans remaining in the stadium, Kovalcheck summed up the entire team's attitude following the victory.
"See you in September," he said, as the remaining Arizona Stadium crowd cheered.


Write a Letter to the Editor