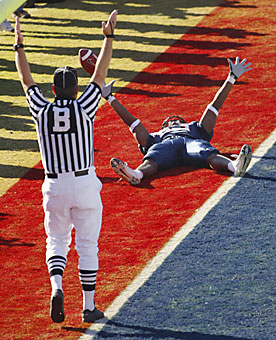 KEVIN B. KLAUS/Arizona Daily Wildcat

UA wide receiver Mike Jefferson celebrates his touchdown catch near the end of the second quarter of the Wildcats' 34-27 victory over Arizona State Friday at Arizona Stadium.

By Michael Schwartz
Arizona Daily Wildcat
Monday, November 29, 2004
Print this


While Arizona head coach Mike Stoops built his reputation at Oklahoma as a defensive genius, it didn't take long for him to realize that a productive offense is critical to Pacific 10 Conference success after his first season in the league.

This certainly was the case Friday, when the Wildcat offense exploded for its highest output of the season in a 34-27 victory over Arizona State after averaging only 13 points per game all year, good for last in the country out of 117 NCAA Division I-A teams.

"We haven't made those plays throughout the course of the year," Stoops said. "You can't win scoring 12, 13 points in this league. It's just not going to happen in very many games. You're going to have to score in the 20s to win consistently, and we obviously haven't done that but three times all year."

In a season riddled with offensive futility prior to Friday's win, among the most telling statistics is that the 3-8 Wildcats were undefeated when surpassing the 20-point mark, but winless in games where they failed to reach it.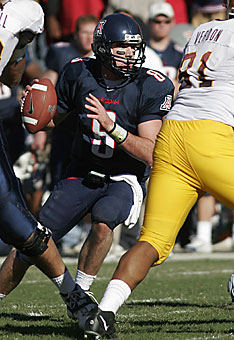 DAVID HARDEN/Arizona Daily Wildcat
UA redshirt freshman quarterback Richard Kovalcheck drops back to pass during the Wildcats victory over ASU Friday afternoon. Kovalcheck was chosen the game's Most Valuable Player by members of the media covering the game. Kovalcheck completed 17 of 31 passes for 239 yards, three touchdowns and one interception in the win.
That same offense, however, took advantage of an ASU defense that had allowed an average of 34.6 points in its last four games and missed four suspended defenders for parts of the game by reaching a slew of season highs.
The Wildcats set season bests in total offense, passing yards, individual rushing yards and passing touchdowns, in addition to notching their two longest plays from scrimmage and their longest field goal of the season during the game, after sophomore Nick Folk started the scoring with a 53-yarder.
"We had them on their heels," junior running back Mike Bell said. "They didn't know what to do. I think we really shocked them. They didn't know we were such a good passing team. Once we started passing, it opened up the run, which we've been trying to do all year. They didn't know what to do."
Bell capitalized on this running room with his best game of the year, rushing 23 times for 139 yards, leading to a healthy 6 yards per carry average. His backbreaking 57-yard run, the longest Arizona play from scrimmage this season, led to a UA touchdown, putting the Wildcats up 27-17.
Bell finished the year with a career-high 950 yards rushing after totaling 920 yards last year. It also marked his fifth straight game with at least 82 yards.
"We had nothing to lose, we only had to gain," Bell said. "We wanted to gain momentum, we wanted to send the seniors out and we wanted to send coach Stoops a good message that we're here to fight for him no matter what. I can go home now to Phoenix not with my head down, locked up in my house the whole time. I can have fun, go brag to all my friends that we beat ASU, ranked 20th in the country."
Redshirt freshman quarterback Richard Kovalcheck led a balanced passing attack, going 17-for-31 for 239 yards and three touchdowns while spreading the ball around to eight different receivers. His three scoring strikes were the most for the Cats since November 2002 and equaled his previous season total.
"He made the plays," offensive coordinator Mike Canales said of the game's MVP. "He did what he was supposed to do. He made the right reads.
"There were a couple things that he had a couple mistakes on, but when the play was on he was out," Canales added. "That touchdown to (sophomore Mike) Jefferson, I've been trying to get that play all year long and it finally hit."
Jefferson caught two passes for 49 yards and two touchdowns. He hauled in what ended up being the game-winner on a 47-yard bomb after Arizona recovered a fumble to put UA ahead 34-20.
Sophomore Syndric Steptoe led the Cats with six catches for 68 yards, while senior Steve Fleming ended his Wildcat career with four catches for 70 yards and a touchdown, including a season-long 54-yard grab. BJ Dennard, a defensive back who has become a two-way player, used his athleticism to grab his first catch, good for 33 yards.
"The receivers played well all game and came up with some big plays throughout the course of the game, and that's what you need in this league," Stoops said. "You have to be able to throw the football. People are going to crowd you. Arizona State crowds the line of scrimmage in everything they do, so we had to be able to throw the ball vertically and that was our game plan."
The offense can now carry the momentum from this performance into the offseason. Kovalcheck, Bell and most of the receivers return while Stoops said his staff will work hard on bolstering the skill positions with recruits.
"You can see we're recruiting some great players, and this is going to do nothing but help our recruiting going into every area virtually of Arizona," he said. "Obviously it gives us credibility. When you do it, you aren't bragging anymore. We went out and won with a freshman quarterback, so I couldn't be more proud of our guys."
While Arizona would trade three wins for a bowl season any year, the time off will allow the UA staff to concentrate its full attention on recruiting.
"We had eight, nine guys here this week for the weekend," Canales said of Arizona's visiting targets. "You could see the smiles on their faces. This is what we're all about, and this is what we're trying to get to. Great defense and put the ball up in the air, make great plays; run for 100 yards; throw for 200-something yards; that's what it's all about. They see that and they're going, 'I want to be a part of this,' and that's what it's about, being a part of something special."


Write a Letter to the Editor