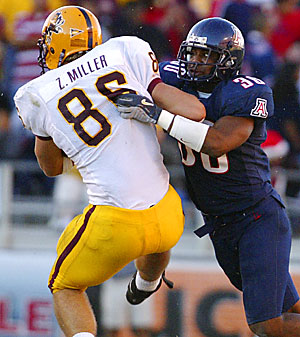 KEVIN B. KLAUS/Arizona Daily Wildcat

UA senior safety Tony Wingate attempts to tackle Arizona State tight end Zach Miller during the Wildcats' 34-27 upset victory over the Sun Devils Friday at Arizona Stadium. Wingate and the UA defense caused five Sun Devil turnovers during the game, recovering four fumbles and picking off one pass attempt by ASU quarterback Andrew Walter.

By Charles Renning
Arizona Daily Wildcat
Monday, November 29, 2004
Print this


On more than one occasion during the 2004 season, the only possible explanation was that the Arizona football team was cursed.

A game-winning field goal sailed wide against Wisconsin, a top-10 team; a fumble as the Wildcats were trying to run out the clock lost the team its Pacific 10 Conference opener against Washington State; an inadvertent whistle blew a defensive touchdown off the scoreboard at Oregon.

The Wildcats just couldn't seem to catch a break.

Until Friday, that is, when Arizona knocked off Arizona State 34-27 at Arizona Stadium.

"We didn't have a lot of good things happen to us throughout the course of the year, but we had a lot of good things happen to us today," said Arizona head coach Mike Stoops. "Maybe the gods do even things out as the year goes on. We got some good breaks, and that always helps in close games."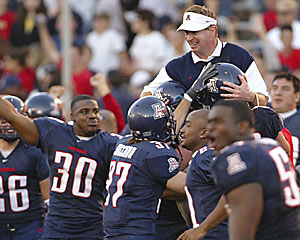 KEVIN B. KLAUS/Arizona Daily Wildcat
First-year UA football head coach Mike Stoops is lifted into the air by UA players after the Wildcats' upset win over rival Arizona State Friday at Arizona Stadium.
A lot of the Wildcats' breaks came from an opportunistic Arizona defense that caused five Sun Devil turnovers and a blocked field goal, leading to 31 UA points.
"We always preach the turnover battle. You have to win the turnover battle to beat a good football team," said Arizona defensive coordinator Mark Stoops. "It shows the character of our team and our kids. They're gonna fight. (ASU) made plays. They moved the ball on us, but we fought, we made big strips, we went after that football and attack the ball. We wanted the ball."
ASU came into the contest plus-7 in turnover margin, but lost the turnover battle five to two despite gaining more than 500 yards of total offense.
"We stripped the ball, intercepted the ball, made them work," said Stoops. "I feel like Arizona State is going to get their yards. That was a huge challenge. They got theirs, but ultimately we made enough plays to win the game. That was the difference today."
Although Arizona created five turnovers, ASU put itself in a position to tie the game in the final two minutes.
Trailing by two touchdowns with ASU's record-setting quarterback Andrew Walter on the sidelines with a separated shoulder, backup Sam Keller lead the Sun Devils to a touchdown to bring the score to 34-27.
Following a UA punt, Keller led ASU down the field to the UA 23.
The Wildcat defense forced a fourth-and-10 before a pass from Keller to Matt Miller bounced off the receiver's chest and onto the turf, preserving the Wildcats' win.
"When you have both sides of the ball working together, the ball seems to roll your way," said junior safety Darrell Brooks about balanced performance on both offense and defense. "This is what we've been trying to do all year. Coach Stoops preaches winning the turnover battle all week and we were focused."
Arizona recovered four of the Sun Devils' five fumbles, intercepted Walter once and recorded three sacks.
"We knew we had to create turnovers to win this game," said freshman cornerback Antoine Cason, who led the team with 12 tackles. "Playmakers make plays, and everyone on this defense stepped up and made plays and caused turnovers."
Besides causing turnovers, the Arizona defense held the Pac-10's all-time leader in touchdown passes, Walter, without a touchdown toss and freshman corner Wilrey Fontenot intercepted the Sun Devil senior.
"They seemed frustrated and antsy," said senior Kirk Johnson, who tallied six tackles and recovered two fumbles.
Johnson is one of few seniors on the Wildcats' squad, but several had a huge impact on Arizona's defensive effort.
Defensive end Andre Torrey notched a sack and recorded 2.5 tackles for loss, while defensive tackle Carlos Williams had a sack, two forced fumbles and a fumble recovery.
"Defense wins games, and we'll just have to build on that," Cason said. "Most of our defense is coming back so we feel real confident going into next year."


Write a Letter to the Editor