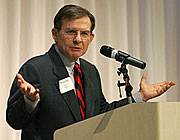 Study says UA president one of the highest paid among public institutions
UA President Peter Likins is one of the highest-paid public university presidents in the nation, coming in at No. 15, according to a study released by the Chronicle of Higher Education Nov. 19.
Likins' total compensation package is $503,394, but Likins said he does not believe the president of a public university should make more than half a million dollars.
Therefore, Likins said he annually returns $60,000 of his salary to the university in various areas, such as scholarships, the New Start Summer Program and the Women's Plaza of Honor. [Read article]