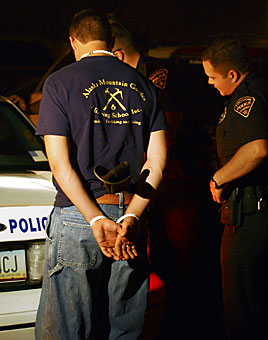 CHRIS CODUTO/Arizona Daily Wildcat

When police suspect a person of driving under the influence, they request that the person perform a field sobriety test. If the person fails the test or admits to drinking, they are required by Arizona law to submit to a Breathalyzer test.

By Holly Wells
Arizona Daily Wildcat
Wednesday, December 1, 2004
Print this


People between the ages of 17 and 26 are involved in the majority of drunken driving arrests and UA students make up a significant number of DUI arrests in the campus area, according to police.

When students get pulled over

Johnathan Tarkowski, political science junior, was arrested at the beginning of the semester and charged with being a minor in possession of alcohol while driving.

He had a blood alcohol concentration (BAC) of .04, below the .08 legal limit, but since Tarkowski was underage at the time, he was automatically charged with Driving Under the Influence.

"I had only had two and a half beers and knew I was OK to drive, but my headlight was out so I got pulled over," he said.

Although he admits what he did was illegal, Tarkowski said if he had been of age, police probably would have just sent him home.

"If I was over 21, I wouldn't have had any charges, so that's shitty. I was fine to drive, regardless of what the officer said," he said.

Tarkowski said before the incident he rarely drove after drinking and said now he is even more careful.

"It's not worth the risk, I was trying to play it right. Usually I have a designated driver, but that night I happened to be by myself," he said.

Sgt. Eugene Mejia, UAPD spokesman, said last year UAPD arrested 40 people for DUIs. That number is already at at least 72 arrests this year. While he did not have specific percentages, he said a significant number of the arrests are students.

.08
BAC standard for a DUI in Arizona

.15
BAC standard for an extreme DUI in Arizona

180
Days a driver's license can be suspended for a first DUI offense

Sgt. Ed Slechta, Department of Public Safety officer and head of the Southern Arizona DUI Task Force, said he wrote and helped pass the law that makes it illegal for someone under 21 to have any alcohol in their system while driving.

He said most DUIs occur with people between the ages of 17 to 26.

"They have a tendency to be more inexperienced drivers, and when you add alcohol, it's worse than ever. Young people need to look at the consequences of their actions," he said.

Unlike Tarkowski, who was cited in part because he was under 21, Kyle Booen, an undeclared sophomore, was above the legal limit when he got pulled over in September.

Booen and a friend who was following him both ran a stop sign on the way to his house from a party. Both had a BAC greater than .08 and both were cited for DUI.

Booen said he was getting out of his car when an officer pulled up and said he smelled alcohol.

"It was my first charge and it was scary, very intimidating. I never drink and drive," he said. "I usually take a taxi when I've been drinking."

Shortly after the incident, Booen said he planned to see a lawyer about the charge.

"It can be fairly expensive. My friend was cited for DUI and spent $5,000 on legal fees, but his was an extreme DUI so I don't expect to pay that much," he said.

Booen said he thinks police should have a set standard of when to give a Breathalyzer test.

When police suspect a person of drinking and driving, they ask the driver to do a field sobriety test. If the person fails the test or admits to drinking, they are then asked to take a Breathalyzer test.

"The cop wasn't within 5 feet of me and said he smelled alcohol. It's such a subjective thing; there's no standards of when they can request a Breathalyzer," he said.

But Booen said he was grateful that police stopped him that night.

"It's the top reason people die every year, I'm glad I got pulled over because I'll never drink and drive again," he said, "It's not a fun situation to be in. I wouldn't wish it on anyone."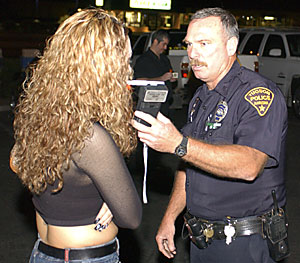 CHRIS CUDUTO/Arizona Daily Wildcat
Arizona's DUI law allows prosecutors to charge those under 21 with any alcohol in their system to be charged with a "baby DUI." Consequences for "baby DUIs" can include fines, diversion programs and the suspension of driver's licenses.
The Law
Mejia said the increase in DUI arrests this year is not due to more people drinking and driving, but rather to an increase in officers patrolling for DUIs.
"We have more resources and we've been able to train more officers; additional resources translate into additional arrests," he said.
DUI is still a problem and people aren't getting the message, Mejia said.
He said there are two types of DUIs, ones where the driver is over the legal limit and ones where the driver is underage and any alcohol in their system translates into a DUI. Mejia called the latter "baby DUIs" but said the consequences can be just as devastating as regular DUIs.
A person could face similar charges for "baby DUIs" and could lose their license.
Mejia said UAPD actively participates in the Southern Arizona DUI Task Force.
"It's all avoidable," he said. "There are other solutions that are so simple like calling a cab or a friend; I can't conceive of why someone would get behind the wheel after they've been drinking."
UAPD will soon have an officer that is specifically trained to catch drunken drivers, Mejia said. He said DUI investigations are often very complex.
"People are more prone to fight that charge than any other charge - they may feel shame and don't want that on their record. When officers charge someone with drunk driving, they know they will be challenged every step of the way by a defense lawyer," he said.
Slechta said officers in Pima County are beginning to become trained phlebotomists and can draw blood on the scene if they believe a driver has been drinking.
"The benefits are it's a lot quicker, you can test for drugs which you can't do with a Breathalyzer test, and it is very hard to defend in court," He said. "We're the only state in the U.S. that has officers drawing blood."
Jan Blaser-Upchurch, state vice chair of the Arizona chapter of Mothers Against Drunk Driving, said many of the organization's efforts are targeted at high school and college students.
"There's research that shows that the younger someone starts drinking, the more likely they are to be addicted to alcohol as adults," she said. "We want to give students the information that drinking is not a rite of passage and it has detrimental impacts."
Accidents involving drinking and driving have huge impacts for the person who drove drunk as well as the victim, she said.
"It's a life-changing experience: if the person who was driving drunk kills or injures someone they'll probably go to prison, not to mention the regret they'll feel," she said.
Blaser-Upchurch said members of the young adult age group are hard to reach because they often think they are invincible.
She said MADD works with police to reach this age group by putting on presentations and getting victims of drunken driving accidents to speak.
When Tragedy Strikes
Blaser-Upchurch has had a personal experience with drunken driving and knows the consequences last a lifetime.
In 1990, Blaser-Upchurch's husband, Sgt. John Blaser, a Department of Public Safety officer, and his partner, Officer David Gabrielli, were killed when a drunken driver hit them.
Ironically, Blaser and Gabrielli were investigating a drunken driving accident when James B. Sheets swerved into the median and hit them.
Sheets was charged with two counts of manslaughter and one count of endangerment, he was sentenced to 21 years in prison.
"We'd been married three years and thought we had many more years ahead of us," Blaser-Upchurch said. "It was a devastating event that changed my whole life. He had so much potential and it was gone in an instant."
Blaser-Upchurch said getting involved with MADD was a big help to her.
"I came through that. I walked through hell, and if you can do something about it, then you should," she said.
Slechta said he remembers when Blaser and Gabrielli were killed.
"I lost three officers in my district to drunk driving and I made a promise to myself that I will do everything I can to nail every DUI and prosecute it to the nth degree," he said.
DUI accidents cause more monetary loss, maim more people, and kill more people than any other crime, Slechta said.
"There were 16,000 deaths last year nationwide and 480 in Arizona. The trend is going up and we need to put it back down," he said. "The monetary loss in terms of property damage is staggering; just think of what we could do with the money."
Mejia said he has seen several DUI accidents since becoming a police officer.
"It's something officers never get used to; the smell of the flames and the engine fluid and the sound of the screaming victims," he said. "It's why officers work so diligently to catch that drunk driver before there is death and destruction."
The Consequences
Amy Christman, an undeclared sophomore, was pulled over last May for making an improper right turn and was charged with being underage and driving with alcohol in her system.
Christman said she had only had one beer and had a BAC of .018. She went to court after the incident but did not get a lawyer.
"It was my first offense so I didn't think it'd be a severe punishment. I thought it'd be better to just admit that what I did was wrong," She said. "It was scary - I never thought I'd be standing before a judge while I was in college."
Christman was charged a fine and had to go to a diversion program. Overall, the cost was more than $200, she said.
"It was basically a substance abuse program, it talked about the effects of drugs and alcohol on the body," she said of the diversion program. "It put things into perspective. We talked about our values and how they can all be thrown away with one drink."
Christman said her parents were very disappointed when they heard she had driven after drinking.
"They made me pay for my own tuition. They were very upset and didn't think I was taking things seriously," she said.
Before the night she was pulled over, Christman said she had driven after drinking on previous occasions.
"I've driven really drunk before and I know I'm not the only person, people do it all of the time," she said.
Christman said she has since heard horror stories of people having one drink, driving and hurting someone.
"I'm more careful now I make sure I have a DD or enough money for a cab," she said. "I don't think anyone should drink and drive, regardless of what they had to drink."


Write a Letter to the Editor