Wednesday, December 1, 2004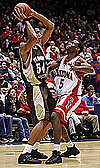 Men's Hoops: Cats round up Cowboys, 98-70
Strong second-half spurs Wildcats to blowout win
For the first few weeks of the young season, UA men's head basketball coach Lute Olson has stressed the importance of a strong second half.
The Wildcats had been outscored in the second halves of all but one of their first five games and it wasn't until last night that Arizona finally executed Olson's message, using a 20-6 run to open the second half and rout Wyoming 98-70 in McKale Center. [Read article]




Men's Hoops Analysis: McClellan, Wildcats show killer instinct in victory
The UA men's basketball team was happy to be back home last night, but the Wyoming Cowboys were just as happy to see McKale Center, shooting 48.4 percent from the floor in the first half.
The Wildcats, however, finally showed the killer instinct they've been talking about early in the season, outscoring the Cowboys by 20 in the second half. Getting back to their offensive ways of a year ago - when Arizona led the nation in scoring - the Wildcats scored 98 points, 53 in the second half, and shot a much better 47.9 percent from the floor. [Read article]




Football: Heavner to transfer, Spurrier to join dad's staff
Sophomore quarterback Kris Heavner will leave UA after this semester and transfer to Baylor University to be closer to his family in Texas, The Arizona Daily Star reported yesterday.
"My family will be able to see me play," Heavner told the Star this week. "I am looking forward to a fresh start."
Nothing official has been filed for Heavner's transfer, the UA sports information office said yesterday. [Read article]




UA Football Season Wrapup - Offense: QB depth in question heading into 2005
Heading into the Arizona football team's win over in-state rival Arizona State, the Wildcats were ranked last out of all 117 Division I-A teams in offensive scoring, averaging only 13 points per contest.
Arizona struggled much of the year moving the ball and putting points on the board, scoring over 20 points in just their three wins; however good news came in the form of the team's 34-point performance against the Sun Devils. The Wildcats set several season highs in the win and return seven of the eleven starters from Friday's game. [Read article]




showAds('bigbutton')?>






showAds('mediumbutton')?>

showAds('wildlinks')?>