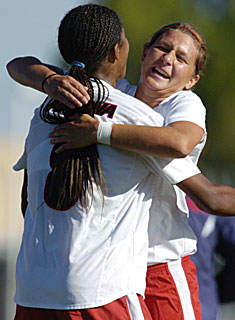 CHRIS CODUTO/Arizona Daily Wildcat

Arizona junior midfielder Jennifer Klein, right, celebrates with departing senior Candice Wilks during the Wildcats' 1-0 victory over UCLA this season at Murphey Stadium. Klein and Wilks led the the Wildcats' to a share of the UA program's first-ever Pac-10 title. UA tied UCLA with a 6-3 Pac-10 mark.

By Brett Fera
Arizona Daily Wildcat
Tueday, December 7, 2004
Print this


Wildcats look to build on Conference crown, 1st NCAA berth in '05

UA soccer head coach Dan Tobias had no bitterness and no regret this past weekend, during his trip to Cary, N.C., to watch Pac-10 foe UCLA battle Notre Dame for the NCAA women's College Cup national championship.

"They had a great season," Tobias said of the same UCLA squad his Wildcats shared their first-ever Pacific 10 Conference title with. "I was real happy to see a Pac-10 team in the final."

Tobias also made no mistake to say which of the two championship-round participants his support went to.

"I was rooting for them all the way," he said of the scrappy Bruins, who countered the mighty Fighting Irish squad to a 1-1 tie through 110 minutes of regulation and overtime play, before bowing out in the sudden-death, sixth-round of penalty kicks. "My heart goes out to their team and coaching staff."

As for his own team - Arizona set school marks with 15 wins overall, six wins in conference play and a near-perfect 8-1 home record at Murphy Stadium - Tobias said he wasn't bitter while watching UCLA, a team the Wildcats defeated 1-0 this season.

The feeling might have been a bit bittersweet, however, after Arizona fell in first-round NCAA action to Colgate in Storrs, Conn., amidst ice on the field and snow falling from the sky.

"I hope the lesson for our team, among many lessons we learned, when you perform well on a given day, we were capable of beating anybody," he said.

"I'm not going to lie; would it have been nice to play in a different climate?" he said of the Wildcats' trek across the country for their first-round NCAA game, while Pac-10 opponents like California, Stanford and UCLA, which each opened NCAA play at or near the schools' campuses. "But nobody approached the game like that. At the end of the day we certainly had enough chances to score goals."
CLAIRE C. LAURENCE/Arizona Daily Wildcat
UA junior midfielder Mallory Miller beats a defender to a ball during Arizona's 1-0 victory over Colorado College at Murphey Stadium this season. Miller led Arizona with 19 points, scoring five goals and adding nine assists.
Tobias said he hopes, if anything, his players can take the season's success and early NCAA exit in stride, using them as motivation for next season and beyond.
"It's a great building block for us as we try to become an elite team and an elite program," he said of the team's record-breaking year, one which earned him Pac-10 Coach of the Year honors in just his second season in Tucson.
"We had so many freshmen on this year's team and we return a core that gives us a lot of excitement for next season and beyond," he said.
Despite losing the leadership and numbers of departing seniors Candice Wilks, who led the Wildcats with seven goals in 2004, and Lindsey Peeples, the backbone of a young, inexperienced UA defensive unit, Tobias has the luxury of returning 11 would-be sophomores to next year's squad who have no recollection of the troubled past of UA soccer. The group includes defensive stalwarts Kaity Heath and Claire Bodiya, midfielders Nicole Scheid and Amanda Urtuzuastegui, as well as 2004 SoccerBuzz National Freshman of the Year candidate McCall Smith in goal. Smith finished her first season with 11 shutouts, good for the UA career-record in just one season of play.
Tobias said that while he's still unable to comment directly on the UA's fall 2005 crop of freshmen, that he offered them a small piece of insight when they attempted to decide whether to come to the UA.
"I told the 2004 class they might be coming into an exciting time for Arizona soccer," he said, "but I told the 2005 class you might be coming at the most exciting time after the success of the 2004 season."
The Wildcats also lose the speed of the departing senior Vanesha Bailey and the big-play ability of Kamaya Damwijk, who finished second on the team in goal scoring in her only year of NCAA soccer, but counter with the grit of returning starting midfielders Jennifer Klein and Mallory Miller. Miller led all Wildcats in scoring during her junior season, with 19 points on five goals and nine assists.
With the talent surrounding his Wildcats out of the bag, Tobias said Arizona soccer is nowhere near reaching its peak in terms of success.
"You can go to places that are already established and obviously continue to help their tradition of excellence," he said. "Or you can make even a bigger mark and go to a place and help make a program elite."


Write a Letter to the Editor